"independence" and "after the last one"
independence
you colorfully decorate
the times before history
chalk them up to guys
with fringes on their shoulders
you draw epaulettes
horses flying
to the caves of
robot dragons
you cozy up to anyone
stepping off a freight train
with a patch above their hearts
yet there is no news
you could hand out
to your local pitchman
---
after the last one
he lowers the boom gate
steps between the tracks
stares at the landscape
above the contact area of the tracks
moves backwards
as if something were approaching
but it's only a flash of light
he raises the boom gate
hangs his hat
on the cranker
next to his epaulettes
contemporary human trash
covers the railroad gravels
he stands above them
no more train is coming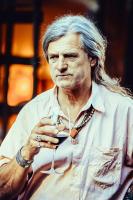 Gabor G Gyukics (b. 1958) is a Hungarian-American poet, jazz poet, literary translator born in Budapest. He is the author of 11 books of original poetry, 6 in Hungarian, 2 in English, 1 in Arabic, 1 in Bulgarian, 1 in Czech and 16 books of translations including A Transparent Lion, selected poetry of Attila József and Swimming in the Ground: Contemporary Hungarian Poetry (in English, both with co-translator Michael Castro) and an anthology of North American Indigenous poets in Hungarian titled Medvefelhő a város felett. He writes his poems in English (which is his second language) and Hungarian. His latest book in English is a hermit has no plural (Singing Bone Press, 2015). His latest book in Hungarian was published by Lector Press in May 2018. Photo by Sándor Gyapjas.