Inconvenient Truths: Florida in Limerick
Fascist Paradise
 
Florida, a peculiar state,
Where justice suffers a vicious fate.
When freedoms come into the fight
DeSantis deems wrongs to be his right.
As many who see fascism rise emigrate.
 
 
Other Color
 
When history gets bleached until White
Folks can see there is no truth in the light.
You might have heard the news -
DeSantis claims he can choose
What history about Blacks should be right.
 
 
Disinvitation
 
Florida schools are told "Don't say gay,"
Lawmakers push for DeSantis' way.
Every LBGTQ+ presence is scanned
Books, shows and services are banned
In hopes almost 900,000 residents go away.
 
 
Self-evident
 
It is not easy to watch Florida erase.
Truths that Blacks and gays daily face.
New bounds on what learners read and say
Kill more than brain cells in a woke power play.
Even DeSantis wants out of that place.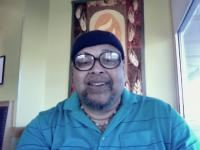 Vincent F. A. Golphin writes and teaches in Orlando, Florida, once called, "The Happiest Place on Earth." The widely published author is featured in Brave World Magazine publisher Souvrav Sakar's 2021 international anthology, Universal Truth. His poems also appear in the four-part, 2018 Poet Speaks anthologies. Beyond that, Golphin's poems and short stories contribute to a wide range of print and digital publications and journals that include the Thrill of the Hunt Series, The Gathering, Mo Joe: The Joe the Poet Anthology, and Yellow Medicine Review, Drylongso, Fyah, MentalSatin, Pinnacle Hill Review, Bridges, and Ishmael Reed's Konch Magazine. FootHills Press published his latest collection of poems, Ten Stories Down, in September 2011. Please donate to Fair Fight Action, Inc.