"Incongruous Reflections (August 2020)" and "Extinction Romantic (November 2020)"
Incongruous Reflections (August 2020)
If I cut my hand fumbling with a piece of broken glass
It is also six months prior
Afraid in the cold of January,
Residual and wandering mind.
 
A journal's page adrift in water,
Intermingling glimpses to one ink,
A body hum in quiet.
 
I am also being sick on the carpet while
Washing my hair or standing for the bus.
 
If I am a victim of murder I might never notice.
It happens every day and to others
More or less deserving.
Why should we write this down if it happens
Every day in this life to anybody?
And who of us would read about me murdered?
What else can we possibly say about this
Civilization's disgusting habit?
 
We are always crows and fawns to ourselves.
I never saw anything vicious from me. I only
Was born with these fingerprints and malaise.
The basement is being poured full of cement
For some reason. The mail is arriving at midnight.
I know this is because flies are too many this year
And my cousin is a pile of barbed wire on the carpet
Every one of them.
 
Somehow I don't sleep as well as January.
Whenever I drive my car I could forget my body
In the glare of passing lights.
What plays through the stereo is inversion
So the air becomes empty and damp.
The wall beside my bed has little paintings in blood
And they embarrass me to be alive in the ligaments of a nightmare.
 
Sometimes morning is like a jewel of shattered glass
I touch and turn in my fingers to examine
While they become bloody and tender. This instant
I see the glint of our sun and swimming imperfections.
Discrepancies in life like some grains of air in a needle.
A razor blade pinched in thumb or
A storm of pleasant birds.
Its all the same in ways.
 
I would prefer to feel nauseous
Or delicate listening to
This smoldering democracy,
The shrill noise of insects caught in embers.
I feel calm as milk and heavy
Like a bullet in palm. I feel inanimate.
I think I will buy a rifle soon because
If we are killing each other in November
I don't think I will be surprised.
 
If I try to leave this country
It is like digging a hole to survive in
Beneath the tides of conflagration.
Unless I am exhumed past cowardice I know
This preservation will pervert me incomprehensible
Like a pot of kimchi to persist into future.
 
This sweetness and
Glistening smog are welcome.
A poem in the air about residuals.
I remember myself sometimes
It is like waking from surgery or
Slipping again under anesthesia to
Live with incongruous reflections.
 
If I cut my hand fumbling with life
It is also the evenings I become thin
As magnetic tape from drinking
Bitter predictions. I fell through into
Visions of catatonia. As I am writing now also
It is six months tomorrow I am
Struggling to be.
---
Extinction Romantic (November 2020)
Injured
With stirring a vat,
Our suffering reflects warmth
Of rats on the window,
Gradients of mildew,
The mirror and ledge.
 
Disarticulate romance,
A turn about the cell. I touch your neck
The trace of a city's shadow
I should puke. Aren't we both alive
Denatural passengers for the century?
 
Weather
A mechanism to stasis, we stay
To watch the air, a calligraphy in soot.
Hungry as talking circles, constricted to
Impossible conversation. Were you alone
To wither pandemic mornings?
Our love consumed in fog and also we
Scatter as the rafts from a sinking.
I walked ashore your soul, or no one
And the ocean stirred in rhythm our worries
Forgotten conviction to labyrinth.
 
Perverted to know another. Didn't we
Drown in oil once already? Contorted skin
To sympathetic wasting. The Biblical serpent
And passenger pigeon, we
Ought to live in this world than be
Wrecked on the whim of a current.
 
Tender hands entangle in the sleet wind,
And poisonous meals surrender the future, invisible.
I never decided to trust you, only
This valley is too quiet for questions. Mistaken
Like unlaced shoes I was 6,000 miles distant
A metallic echo my palette and teeth, of
Discarding myself staring.
Accumulation as deserts to night I was
Battering nails in the ceiling with these tremors,
These tender hands.
 
As a lie, a pile of wrinkled linen
A seabird flies out past my lips, that's
The only way to be is
Battled around surviving. Intestines taut with steam
The trenches of endless sky. Aren't we
Crawling in this time and
Insurmountable?
 
In the street is a sewing needle, asthmatic engine
And a path of dust. Those clouds form a tempest
Slowly, stirring a vat.
Congested hearts with revelation.
Darkness-drunk with telephone, we could
Survive among our stumbling, and
The stagnant gong of sunlight.
 
Umbilical cord the wretched wind
To resist beginnings,
Understanding is a death.
 
Aside life digested of
Independent or phosphorous,
I will to love this
Achingly perspective.
 
I'll set in the street an ornate chair,
Wooden, and wile the days in margin
How the cars will part around me.
 
Ode
To asbestos, to this moment
The diving bell.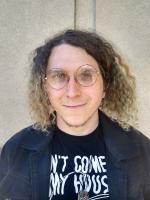 Rats Alice Trujillo is a grocery store worker, queer social dissident, and esoteric multimedia artist. They are active around Seattle and their writings appear sporadically in print and digital. Between writing and other work they arrange and perform leftfield electronic music as 'Uncanny Dandelions'. Rats recommends mutual aid over charity, but a group in need of funds is From The Heart PNW. They accept support through their venmo account @fromtheheartpnw.