"In the beginning" and "Exacta"
In the beginning
the undertakers' polyester suits
couldn't withstand the volume
of work and soon they too were dead,
perhaps of constant exposure to
despair as well as lack of food,
and the 'mericans became once again
intimate with death. Dirty water and dirtier
rags scrubbing at the filth and shit
on the wasted bodies of children, elders, lovers, friends.
Penknives and paperclips paring blackness
from under fingernails. Keeping vigil in electric-less
hovels over stubs of tallow candles, chanting against
evil spirits, buying time til their beloved could
cross over. Praying to an absent god for a better
next-life, or for no-life at all. Wrapping too-thin
limbs and torpid torsos in the cleanest
dirty windings, weakly excavating the shallowest
of holes while pretending the skeletal
dogs will keep to the woods.
---
Exacta
Me and Sandra and Rashid race twigs in the trickle
of stinky water running between the mountains 
of burned out buildings. We feel safe enough to celebrate
our wins with quiet whooping and back slapping, knowing
the Blackwater MP's have no need to patrol rubble. Tonight,
we will wiggle under the plywood, snuggle close against the cold,
sleep invisible and safe on the concrete steps of the broken church's
locked-up basement. This is the night Rashid goes cold, won't wake up.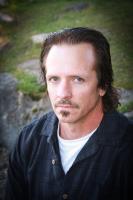 Mike L. Nichols is a graduate of Idaho State University. In 2014 Mike was awarded the Ford Swetnam Poetry Prize. Look for his poetry in Black Rock & Sage, The Poet's Haven, Rogue Agent, Tattoo Highway, Taxicab Magazine, and elsewhere. Find more at mikenicholsauthor.com.