Parchment promises shining sharply
        fancy letters scrawled in dried blood,
brown and peeling over the course of
more than two centuries
        requires fresh flowing red ink
coursing
from the veins of our children
        who ask for an egg but to whom we hand
        a venomous snake snapping with
        bullet-shaped fangs
spilling
from the arteries of our enemies
        who we pray for
        (though it's for their deaths)
spurting
from the still-beating hearts of our neighbor
        who we leave along the side of the road
        to Jericho
 
Our shining metal idol
fashioned
        across ages
forged
        in the sweat of our freedom
hammered
        into shape with each shot
triggered
        by our fear
(despite our desperate protestations to the contrary)
        demands
        its violent sacrifice
        and
        crying
        we
        feed
        it.
 
We pray as we willingly hand over our children
We the People pray as we willingly hand over our neighbors
We the People of the United States of America pray that it is not us who is handed over next.
 
The idolatrous ink runs red once more
and we wash our hands of the whole affair
trying in vain to keep the fresh blood from dripping
on our Sunday best
while consoling ourselves because after all
 
what more could we possibly do?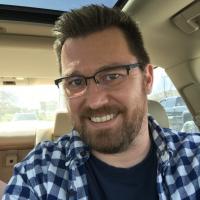 Matt Schur hails from Lincoln, Nebraska, where he lives with his wife Karin and their two children. He holds a BA in English from Truman State University and an MA in Systematic Theology from Luther Seminary. When he's not writing, Matt assists people experiencing homelessness as a full-time housing specialist and case manager. His previous work has been featured in Valiant Scribe, and in 2021 he published his first poetry collection, entitled Cross Sections. Matt recommends the People's City Mission.