"Identity," "Pillow" and "The Feeble Memory of Mine"
Identity
Stitched up together
The frail seams
With nubby thread
Patched over
Ripped holes
With cloth
Found in a drawer
Somehow
More recognizable now
Then when it was first made
---
Pillow
Sinking into the fine fibers
Fluffed cotton candy
The aching head marvels
Over the fading soreness
That was just unbearable
And the ambrosia sweetness
Rejuvenating my reasoning
Brings steady deep breath
As the head lies lightly
---
The Feeble Memory of Mine
The feeble memory of mine
Stands now guard alone
Of existence that made me
And shaped me and loved me
A few scattered objects
Papers kept safe in a drawer
Lay as evidence to my memory
As proof of life once lived
… and not imagined
Yet the objects disperse
The papers fade
And the memory
Stands now guard alone
Alone
Be sure to check out Basia's recent visual work.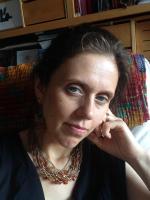 Basia Tov was born in 1973, in Warsaw, Poland. She began her art education as a child at an artist-cooperative in her native city. She immigrated to US after completing high school. She graduated from the Fashion Institute of Technology in New York with a Bachelor of Arts in Fashion Design. She changed a few careers, received a Masters in Education, and started raising a family while continuing to write, paint, and photograph.
Basia Tov has exhibited her art on East Coast and West Coast. Her art encompasses paintings, mixed-media, and photography (www.basiatov.com). She also designed book covers, illustrated two children's books and wrote and illustrated a couple more.