"I Have Been Very Attentive" and "Here They Come"
I Have Been Very Attentive
1
These naked are meek and side. This is a sign. Lands are an emblem of Jesus seaman. One great basket, in honor of probably Father. The very unskilled are spun cotton. I wanted to leather them. We desired and gave their fear reason.
Princes, these have no arms. I ordered that, free us from evil. They may learn at no time. They annoy our war. Go anywhere for Christians, they will.
With such good heart, I treat them with things to strip them of everything, lacking knowledge of their contradiction.
I do not believe there is a better love. They have the softest.  They are subjects of the world in language order.  
For I am things, beads, brass rings, an island.
What must be, must be.  I could subjugate the entire they.
Indian lands are an affectionate, loyal and honest and cowardly beyond help.
Your people.
2
There are many things that I will probably never know.
I hope to God that I can have some good trade in her nose.
3
I have been very attentive.
I saw a little piece hanging from a hole.
Source: Columbus's Journal of the First Voyage
---
Here They Come
Oh yeah. Here they come. Ooohh uh huh. Feel it. Yeah. Here come the words. Do it. New worlds. Ah yeah. The ... Oohhh ... new world. Ah yeah. New Worlder. Word order world.  New order. Ohhh uh huh. World. Yeah. Order. Yeah. Order. Yeah. Order. Yeah ooohhhh order me yeah uh huh. The showdown that leads … Uuummmm. To his ouster. Ohh good. Showdown. uh huh uh huh. Ouster. Do it do it good ohhhh. His ouster. Do it oh yeah uh huh. Impact. Uh huh. Yeah. The New Worlder ummm is unh unh unh impacting me. Ahhhh. Prestigious. Ahhhh. Naked. Naked. Naked. Ahhh. Prestigious. Ahhhh yeah. Aggression. Ahhhh christ yeah. I present you with this. Ahhh yeah do it do it keep it there keep it do it there uh huh. This prestigious. Keep it going. This spectacular ... Oohhh ... aggression. Please oooohh oust it yeah. A bull's eye.  Ohhhh impact me ohhhh yeah. This terrific…Ohhhhh yessss…broadcast. Yeahhh. Broadcast me ahhh. Live tight-shot close-up blackout ... Ohhh yeah ... with a broadcaster's pronunciation. Ohhhh do it. Worldwide. Uhhuh uhhuh uhhuh. Telecommunications. Uhhuh uhhuh. Telecommunication link link ahh up links ooohhhhh telecommute me it's so. Spectacular cash award for your yesyes unparalleled investment protections. Oh christ yeah. Pure cash. Yeah it's so good to uh uh cash me cash me in. So good too. So good to. Just say no. No please don't uh huh uh uh uh huh. Just say no to. No no un huh please oh yeah yeah dont oohhhh make me. Get behind the uh huh uh huh. Right now. Oh yeah get behind the. Get behind the. Uh huh uh huh. And display. Yeah ohhhhh display it. Now. Yeah. Now. Ahhhh yeah. Display it ... ahhhh ... right now. Display it ... ah ah ah ah ... and wave it uh huh uh huh air to ground ... Ahhhhyeaaahhh ... electronic cash Ohhhhh yessss reward with a broadcaster's ... oh oh oh ... pronunciation worldwide disease-free ahhhhh satellite. Blackout. Ahhh yesss ahhhhhh. Fingering … Ohhhhh uh uh uh ... GPS ... Yeah yeah oh yeah ... hot targets ... Ahhhhhchrist jesus ... Air to ground ... uh uh uh ... control system bursts ... Do it ah ah ah oh yeah oust it ... Targeted hot ... Ahhhhh sweet sweet jesus impact ahhh ... strikes ... Shit yeah keep it ... air to ground ... keep it there keep it ahhhhhyeahhh ... vibration tolerant ... more than ahhhh yeah ahhhh tolerant ohhhhh yeaaaah ... targeted ... ahhhhyesssssssss ... surgical … Ohhhhhhhhhhh ... mmmmmmmmmmmm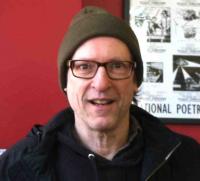 Steve Gilmartin is the author of a chapbook, Comes Up to Face the Skies (LRL Textile Series, 2013). His fiction and poetry have appeared in many print and online publications, including and/or, Big Bridge, Café Irreal, Drunken Boat, Eleven Eleven, Lunch Ticket, Mad Hatters' Review, Otoliths, and Rivet. He lives in Berkeley, California.