"Humpf!," "Not Your Father's Oldsmobile," and "Break-Time"
Humpf!
Blue, no, not a color but a symbol,
mathematical in nature but large
or small dash circling the scale, symbol
like the rest of those conceptions
in drag, images losing sight
of endangered species such as taste,
touch & smell just long enough
to say her eyes so blue
for the sake of the s's but
not so much for the bruised
verbs, thorny adjectives,
or happy-go-lucky sleeveless adverbs
loitering gyro stands & bilking
unsuspecting patrons of their last dime
when no one's looking, or custodial
prepositions scrubbing ceramic toilets so
the rest of these mountain goats' white hair
flashing, despite what quantum physics
has to say, pulverizing shells
into glistening Palm Beach sand
glued to ankles, fused to buttocks,
& infesting undergarments to the point
where you gotta believe
that blue's no longer a color
but a symbol blinking inside the brain
like some diminutive UFO, symbol,
pure & simple.
---
Not Your Father's Oldsmobile
Not tonight.
Not now.
Brain off the hook.
Sense of beings
stalled at carwashes,
spiritual drive-thrus,
so slam the lid
on steam rising
from Sunday
morning dreams,
swirling neon insinuations
of the men or women
we long to be,
while forgetting
for one nano that
we're precisely
the men & women
we're supposed to be.
---
Break-Time
                    (After the James Hunter Six)
During initial moments of bliss, magnesium sparks
of uber-lust tickle the cerebellum sending electric blanket
fantasies along thighs, past the rainforest of the belly,
into calves, shins, & ankles.
Very well, then, not unlike Coleridge
meditating "KK,"—as though I've stumbled
into the cave of the great ones forcing
each other toward golden flames shivering
cave walls like promises from the elders
in crushed velvet smoking jackets—
well, like I said, I was forced from the road,
so, naturally, I took the hard way.
But a bizarre turn of events occurred
46◦ due north of the South Pole god—
whatever shall we do
without a South Pole god?
Like global warming, we'll leave that to our grandchildren:
kids soccering, swimming at the J, & dribbling sixes
through their twelve year-old legs a few years
before navigating Humvees across a feral terrain.
So, ignore our toxic mess & leave a filthy planet
for future generations & trust them to figure
how we struggled each & every day of our,
& I mean this in the way it's intended,
​god-blessit lives, albeit the Brothers Grimm
& Shakespeare riding a camel or a horse?
The days of slavery are passé, which signals the end
to empires & all their indentured servants called
CEO's (yes), plus housewives, teachers,
& duly elected politicians, plus blood diamonds
& bank notes tied to the bomb, the bomb squad,
or whatever they call themselves now; still, the days
of slavery are passé.
It's our time, now, time to replace petrified icons
with intelligent ones, & perhaps time even to walk
​Nerval's lobster, Thibault, waving one tattooed coral
claw above his somnambulist leash while scuttling all
six spiny legs across the sunny blue Champs-Élysées?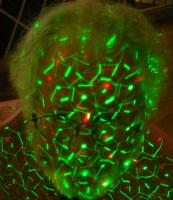 In August 2015 Alan Britt was invited to Ecuador as part of the first cultural exchange of poets between Ecuador and the United States. His interview at The Library of Congress for The Poet and the Poem aired on Pacifica Radio, January 2013. He has published 16 books of poetry. He teaches English/Creative Writing at Towson University. Photo by Charles P. Hayes.