Sometimes there aren't metaphors waiting to be found. Sitting and listening to Dylan talking to Woody is enough for him. A little glass of whiskey would be nice, but not today, none around, not for miles anyway.
Last night a dream kept him pinned under his blanket, but his loud screaming woke his wife and son up. "Can't really explain what it was about," he'd tell his wife in the morning, but not because he didn't remember the dream, it was that he couldn't figure out how to say it in her language. That happens a lot to him. And, because it happens to his wife as well, he hoped his actions, his behaviour could make up for it.
Outside he could see the buildings and cars down below. From their 6th floor flat everything up-close was clearly outlined. Sure dust curled around the ground irregularly, but that was to be expected here. He considered how he got here. His wife followed him here, subsequently his son as well. But when he looked out toward the horizon, the distance dissipated, like someone was shaking an Etch-a-Sketch across the sky. He'd recently learned it's called "petroleum dust."
His boy'd developed a cough about three months after they'd arrived in country and when his tongue turned a pale-color orange he decided to take him to the doctor. It was the doctor that told him about the petroleum dust. She said it with a hint of disdain in her voice.
Most people are really nice. It struck him—the lack of hustle here. Every place he'd ever been, people had a hustle to 'em. The first time he saw it was as a child, in Toronto, walking down the street with his family, on their way to eat at a Chinese restaurant. He was 8 or 9, still held his dad's hand, and they passed by a raggedy looking old man sitting right there on the sidewalk—against the wall of a building. He sensed something, a tug from his father's hand, an uneasiness in his mother or older sister, but when he turned and looked back at the old man, he smiled warmly at him. His feet had slowed and his dad tugged on him and he scampered to catch up before they all turned to walk into the Chinese restaurant.
After eating, he remember purposefully falling behind his family. The old raggedy and dirty man was still sitting there against the building. As they all passed by him on their way back to the hotel, he turned quickly and flipped a quarter to him. The man winked at him and smiled gratefully—hustle.  
Looking back at that moment now, it was like every other memory. He'd learned to turn them around and examine them in stride. If he was alone, as was the case in this moment, he could really focus on them. If he wasn't alone, at work, or with his small family, whatever the case might be, the memories were just like a warm breeze or a chilly draft, catching him unaffected, or curiously, and then moving on. But as he walked along in the curling dust at dusk, the memory of the old man in Toronto spawned the idea that nobody here really hustles. No one sits on the street. No one has a line, nobody's looking to scam anyone or pull a fast one. Everyone smiles and when they look you in the eye they don't zero in on you and try and sell you something.
"I think it's because everything is illegal here," he said to one of his colleagues. "And there's no drinking, at least not as such. I mean you can't just stumble round the place being obnoxious. They'd have you thrown in the klink."
Everyday after work he takes his son to the playground, or out for a bike ride, or down to the fire station. They keep the firehouses open to the public here. His son loves going because the firemen are super nice and like to hold the boy and play with him. They flip on the lights, turn on the siren, let the boy say stuff into the public announcement speaker, and the boy laughs and stares at everything with wide eyes and says, cooool a lot. He doesn't like to take his son there too often, not because he wants to keep his son from having any fun, but because he feels guilty about the level of attention the firemen pay them. After they finish at the firehouse or playground or whatever activity they decide to entertain themselves with, they go shopping at their local grocery store.
He doesn't know why the firemen's hospitality makes him uncomfortable, but he's starting to make connections. The first time he and his small family went out to explore their new neighbourhood was after getting a good night sleep and waking up at noon. He got online to try and scout the neighbourhood, at least narrow down his options, he didn't want to be outside too long, it's hot here.
They woke up and he made something for everyone to eat. He kissed his wife and she rolled her eyes and then he went and horsed-around with his son. He carried him to all the windows of their new flat and they looked outside. His son noticed all the little buses and trucks, pointed to them as they moved busily down below. From their bedroom they could see a crowded round-about and horns sounded regularly.
He and his son went around the flat looking at things like the AC thermostat, locating the water heaters and figuring out how the gas stove worked. He found a small cubby above the kitchen bathroom hallway and pulled a chair over to see what was inside. His wife warned him to be careful when he scooted his son up and into the small space to look around. He looked like a little raccoon peering out from a dark alley and he laughed and poked his son's little belly making him laugh too.
Getting ready to go out, they made sure to have plenty of water, a sun-hat for the boy, and sun screen. He felt like they might not come back alive, even though Google Maps said it was only a 17 minute walk. He tried to think about how far they would get in 17 minutes where they used to live. They'd pass by two playgrounds, a gas station with a 24 hour quick-mart, three coffee shops, a grocery store and a two Indian restaurants, among other things before at around 20 minutes they could get to one of the biggest, newest malls in the city. He looked at his wife, but he couldn't tell her any of this, not because he didn't want to.
They got the boy ready and together they took the elevator down to the lobby, his wife pushed the stroller along and he horsed-around with the boy. It was peak-summer-time daytime hour.
The lobby of their building is a complete floor to ceiling glass enclosure. When the boy stepped out of the lift, he stood for a second in awe, the bright sun and dusty ground, the cars and buses circling the round-about and a handful of cats, all looked like he could just run up and touch it all. The glass barrier, invisible to him, shielded the sounds and hostile heat of the outside and he ran straight for all of it and bounced with a thud off of the invisible glass and fell back on his little bottom and cried.
He thought for a moment about this—in the moment. Was this a metaphor waiting to be recalled from somewhere? He and his wife laughed. After comforting the boy, they stepped outside and the heat overwhelmed the boy. In an instant his demeanor turned from cheerful and expectant, to oppressed and weighted down. He cast his gaze inwardly and tried to hide from the hostility of nature. He noticed this in his son and he instantly regretted coming here. 
His son didn't want to walk so they put him in the stroller and pushed along in the dusty parking lot. The parking lot was as big as a proper city block and was filled with abandoned cars, trucks, and buses of every variety. Some were pasted with a year's worth of parking tickets. It looked like one of those salvage yards where you bring your tools, pay an entrance fee, and rummage for parts that fit your own vehicles make and model. In the heat it looked like a vast wasteland, and he imagined there were Bedouin tribes camped out and staking territory. He'd learn that there were parking lots like this all around here, but today it was brand new and invigorating. They finally crossed the lot and found a street. No sidewalks to speak of, and if one did exist it was only passable for a hundred meters before some random pile of rubble diverted them onto the street again. Every taxi, and there were many, that passed them honked quickly, either to solicit a fare or get them out of the way. Everything looked as if it was under construction, about to be finished and then abandoned.
He reminded his son every few minutes to drink more water. The heat had pushed the boy so far back into his stroller he could barely see him. They winded down street and alley, and everyone stared at them, this odd caravan, foolishly or courageously bearing the conditions, pretending to be walking along as if along the streets of Paris.
They finally spotted the shopping center they were aiming for, and it seemed as if they'd been traveling half a day. By now it was approaching later afternoon. Online, the shopping-center hours said 9-noon, re-opening again at 4:30. He figured they just needed to get indoors and they could get out his sons toy cars and play around on the floor until stores opened, and according to the time that would only be 15 minutes or so. He would find out soon enough, that in this place, time has other ideas and they ended up waiting around for another two hours until things began opening.
They crossed a busy avenue in order to get to the shopping center. There was no cross-walk that they could see, and no intersection as far as they could tell in either direction that had a traffic light and the traffic stream was too fast. If he was alone and 20 years younger and high on cocaine he would have hesitated, and thought twice before attempting to cross the harried street. But, plenty of examples showed him how it was done, he turned to his wife, gripped the handle of the stroller tightly, reared it back on two wheels for easy manoeuvrability…"Ready?" His wife nodded and on his word they stepped into the street. To his astonishment traffic knew what to do and they crossed to the median, looked at his wife again before crossing the rest of the way, nodded and as before all the cars and trucks and buses knew how to behave and they arrived safely in front of the shopping center.
He looked down at his son and tickled his nose, "See son," he said. "That's the way it's done here!"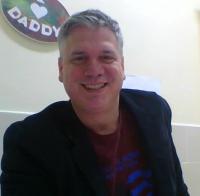 Otto Esterle was born in Cleveland, Ohio, and lived in the Midwest, Southwest, Pacific Northwest, and Southeastern United States. He's lived in Berlin, Czech Republic and now Kuwait. He's a free-range copywriter, teacher, and web designer. He is married to an amazing Czech woman and has two beautiful sons with her.