Hanging Loose, Rigorous, and Unlikely Stories in Seattle
On March 11, 2023, Hanging Loose Press, Rigorous: a journal by people of color, and Unlikely Stories came together to throw a literary bash at the Vermillion Art Gallery and Bar in Seattle, Washington. This video shows Martha Jackson Kaplan's set.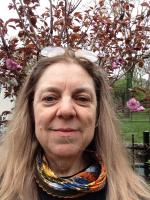 Martha Jackson Kaplan is a Pushcart nominated poet and flash fiction writer who lives in Madison, Wisconsin. She has a passion for history, a sense of place, and language itself. She has published both in print and online and has won awards from Wisconsin Fellowship of Poets. You can find her flash fiction at Bending Genres II, an essay in Bramble V (online and in print), and is thrilled to be published again with Unlikely Stories Mark V. More about her can be found at MarthaKaplanPoet.com.