Hanging Loose, Rigorous, and Unlikely Stories in Seattle
On March 11, 2023, Hanging Loose Press, Rigorous: a journal by people of color, and Unlikely Stories came together to throw a literary bash at the Vermillion Art Gallery and Bar in Seattle, Washington. This video shows Rats Alice Trujillo's set.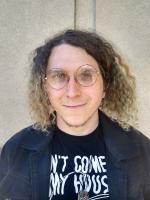 Rats Alice Trujillo is a grocery store worker, queer social dissident, and esoteric multimedia artist. They are active around Seattle and their writings appear sporadically in print and digital. Between writing and other work they arrange and perform leftfield electronic music as 'Uncanny Dandelions'. Rats recommends mutual aid over charity, but a group in need of funds is From The Heart PNW. They accept support through their venmo account @fromtheheartpnw.