Hanging Loose, Rigorous, and Unlikely Stories in Seattle
On March 11, 2023, Hanging Loose Press, Rigorous: a journal by people of color, and Unlikely Stories came together to throw a literary bash at the Vermillion Art Gallery and Bar in Seattle, Washington. This video shows Gerald Fleming's set.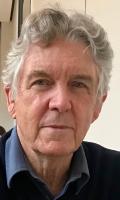 Gerald Fleming's most recent book is The Bastard and the Bishop, prose poems from Hanging Loose Press in Brooklyn. Other titles include One (Hanging Loose), The Choreographer (Sixteen Rivers, San Francisco), Night of Pure Breathing (Hanging Loose), and Swimmer Climbing onto Shore (Sixteen Rivers). He lives in near San Francisco and spends much time in Paris. He recently discovered that the first prose poem he published was forty-nine years ago, San Francisco.