One day I come in, and Carlos waylays me. "Benhamin, something happened. They sent Georgina home. They had a meeting in the office, two priests with her, Father Blanco and Father Tom. She left, crying, how you say, those crocodile tears. I ask her, 'Georgina, what's wrong?' and she just yelled. 'I cannot talk, Carlos!' She runs to the laundry room with the crocodile crying. I asked Father Tom what happen? He just said she not work here. I asked why, and he says we will not talk about it. But, Benhamin, he will talk to you. Find out what happened."
I ask Father in the laundry room. He is showing Gary, his health care guy, around. Gary is the new Gal Friday. Carlos is wrong. Father says, "We will not talk about details. She no longer works for us".
Over the next few days, a picture develops. Father Blanco he did not trust Georgy Girl. He laid a trap. In early morning, he always heard mouse noises from the liquor closet, rustling paper. He sets up a security cam in there.
The priests confirm nothing. They say they got her on videocam. Money from the collection baskets. Those big baskets, especially during the holidays. Georgy Girl has had her hand in them all this time! "Gurl," the gay parishioners say when retelling the story. "Stay out of that closet, honey. That will get you nowhere."
Carlos and I joke, "Georgy Girl smart. The priests don't give us a bonus. Go to the closet on Monday. Need to go on vacation, Monday, go to the closet."
She comes in one day to sign papers for severance pay. Says hello to no one. She has worked many years for St. Stephen's, all ten with Father Tom. Another decade with Father Tonio, the previous pastor. The archdiocese pays her a good severance package.
I tell the gay parishioners, "Gurl, nuh uh, it pays to hang out in the closet with the Archdiocese of New York City."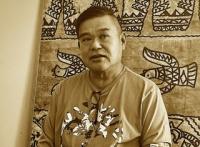 Ben Umayam moved to NYC to write the Great American Filipino Gay Short Story.  He worked for political pollsters, then became a fancy hotel chef and then retired.  He is working that short story again.  He was recently published by Querencia Anthology Autumn 2022, The Phare, BULL, Down in the Dirt, Metaworker, Ligeia, EthelZine, Lotus-eaters, 34th Parallel, Digging Through The Fat, Anak Sastra, Corvus Review, and others. Ben recommends the Mighty Mehal Foundation.