They tear up the old kitchen. I cook in the basement. It is a big community center with a huge kitchen. Saturdays, the basement houses the soup kitchen. Other days, groups like AA rent the space, two types, gay and non-gay. The church is a block away from Christopher Street, NYC's old gay mecca.
I cook down there for a few hours, bring the food up three floors, by the dumb waiter, and serve dinner to the priests in their dining room. Then, after dinner, I leave the dishes in the sink.
After a few days, Georgina confronts me. "Benjamin, you are in charge of the kitchen, siii? Why you don't wash the dishes?"
 "Georgina, I am the chef. I am here to cook dinner. They hired me for four hours. I cook, serve the food, and clear the table. The rest is for you to do. You are the housekeeper, siii?"
She raises her voice. "No, Benjamin, I clean for the priest! No limpio para ti!"
Father Tom is reading at the kitchen table. He is the boss without being the boss.
"Let me explain. I am a professional trained at a specialty school. I get paid a lot of money because of my training and experience. The priests will not pay me more than $70 an hour to wash dishes."
Given this out, Father Tom is not confrontational. On the contrary, he says to Georgina, "Listen to Ben; he is correct."
"You are right, Georgina. I am in charge of the kitchen. You are the housekeeper. You come in the morning and do their dishes from the night before. You did that before. You still do that. Nothing has changed, except you don't make sandwiches for dinner anymore." She leaves in a huff.
Father continues to read his paper. He holds the paper the old-school way, not folded up like folks do on the subway. His whole face is covered. He speaks into The Arts section. "You talk to her like she is a Latina stereotype. Give her some slack, Ben." I am embarrassed, a Filipino American, priding that I am without a bone of racism in my body. I feel like I am at Confession, Father's comforting voice telling my penance for my sin.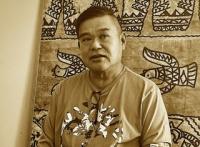 Ben Umayam moved to NYC to write the Great American Filipino Gay Short Story.  He worked for political pollsters, then became a fancy hotel chef and then retired.  He is working that short story again.  He was recently published by Querencia Anthology Autumn 2022, The Phare, BULL, Down in the Dirt, Metaworker, Ligeia, EthelZine, Lotus-eaters, 34th Parallel, Digging Through The Fat, Anak Sastra, Corvus Review, and others. Ben recommends the Mighty Mehal Foundation.