From "The Ashbery Riff-Offs"
Witnessed in the Convex Mirror: The Ascetic's Secret
Brought it to the size of the mirror, he set himself
with great art to copy all that he saw in the glass
which he had decided would form the beginning
of memory. As the mirror was convex, he whistled
as he thought himself a genius: much was captured
in the convex gaze, including things he ignored
during his yesterdays but now will be part of his
consciousness. There, not just a vase with roses
but roses at the peak of ripeness with two petals
already fallen and giving the impression of cream
puddles against the mahogany-topped desk—
consequently, he anticipates he will associate
the rose perfume with decay. There, not just
burgundy silk drapes but ancient silk, which is
to say, ripped—consequently, he anticipates he
will associate silk, not with opulence but, with
weakness. It is not enough to see—the gaze must
widen before it focuses. Otherwise, one might fall
to avoid blinding light, instead of quickening forward
to meld more swiftly with the rapture of lucidity—
something justifies the ecstasy we see deep within
the naked ascetic's eyes, and for which he discarded
possessions he once thought would form history
---
Witnessed in the Convex Mirror: The Significance of Milk
Makes hot tears spurt: that the soul is not a soul
Yet that's the problem with nihilism—you won't
take the logical step of melting ploughshares
into swords. Heads are waiting to be rolled!
There, the milkmaid has covered her hair
with a scarf festooned with pink polka-dots
before doing her duty by cows with a hum
often breaking out into a song. The cows are
grateful, though they'll fill up again during
the day and need reprieve again in a matter
of hours. In conclusion, it matters little how
souls cannot be defined by the language that
was supposed to make us less animal. What is
important is how, despite your contempt
-ous gaze at the universe, you won't take
the logical step of slashing your belly while
a courtier-for-hire ensures the dance of your
head down the steps as it hops down towards
the River Danube, once a long-standing frontier
of the Roman Empire which now flows through
or touches the borders of 10 countries: Romania
Hungary, Serbia, Austria, Germany, Bulgaria
Slovakia, Croatia, Ukraine and Moldova—which
is all to say, souls remain unknown but History
perseveres with the constancy of milk a reward
---
Witnessed in the Convex Mirror: Beloved Achilles
Among the features of the room, an invitation
never mailed. Perhaps inside its sunlit yellow
envelope lies a female dragonfly pretending
to be dead to avoid sex. In too many species
to be male is to form an obnoxious horde
(recall the virgin Saturnia carpini to whose
scent male moths flocked until they covered
her cage even as several dozen still clambered
down Mr. Darwin's chimney to find her). Or
inside the sunshine-colored envelope may
be a puppy's ball, often placed delicately
by my niece's ankles but too often ignored
for what's blasting in the earphones shielding
her from the world which, yes, brought a
beloved dog but also a history I will never
know because, once, I, too, hid from a world
that throws the Biblical weak out of the wind
-ows of cars rushing to Las Vegas. Who am I
kidding? I taunt myself: Lying to yourself
again? I know that inside the envelope
so cruel due to its cheerful hue, rests not
a response to an invitation but an RSVP
I never bothered to mail. I am no longer
interested in cocktail parties or courtesy
I could not have imagined never ending a day
without tears welling up to spill acid down my
cheeks. Who could have imagined the utter
devastation unleashed when a dog dies?
(Saturnia carpini reference from Prodigal Summer by Barbara Kingsolver)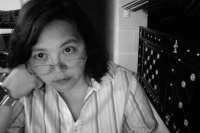 Eileen R. Tabios has released over 60 collections of poetry, fiction, essays, and experimental biographies from publishers in 10 countries and cyberspace. In 2021, she released her first novel DoveLion: A Fairy Tale for Our Times and first French book La Vie erotique de l'art (trans. Samuel Rochery). Her unique body of work includes invention of the hay(na)ku, a 21st century diasporic poetic form, and the MDR Poetry Generator that can create poems totaling theoretical infinity, as well as a first poetry book, Beyond Life Sentences, which received the Philippines' National Book Award for Poetry. Translated into 11 languages, she also has edited, co-edited or conceptualized 15 anthologies of poetry, fiction and essays. More information is at http://eileenrtabios.com