"from Simple to Sublime," "The / main reason / for their misfortune," and "Embedded with the sports team"
from Simple to Sublime
As sites rise to the surface, the
only option is to avoid foods
that may cause the release of
confidential documents. Our
website has not worked as well
as it could, needed a couple
of pie charts in there, to really
demonstrate the poor financial
 
health of News Corp even after
fifty thousand homeless people
were moved into a chic studio
apartment in an NYC townhouse &
given sheets of newspaper to sleep
beneath during the World Cup.
---
The / main reason / for their misfortune
No such thing as information
hardware when you go skinny-
dipping. All soft, no mix &
match, show some flesh or show
nothing at all. It's a crucial mode
of conception, where symbols are
kept in a cupboard for disciplinary
reasons. The lotus flower becomes
 
a horse with little energy. Whose
saddle cuts in, a social vulner-
ability, dressed & wearing a new
landscape that has the texture of
natural hair in order to pretend
it isn't just another creation myth.
---
Embedded with the sports team
Don't fret. The echo workout
provides a timeless approach
& can be monitored even during
the fracking process. Just find
a canyon, shout into it, & wait
until the walls release a reply.
It's a discrete methodology that
makes use of symmetry, manages
 
to appear on all the right blogs,
& now even carries a range of
vinyl records to help break the
energy stranglehold. The down
side is that the police get called
if you try to follow it home.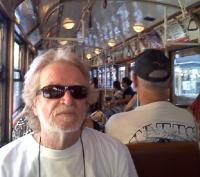 Mark Young's first published poetry appeared over sixty-two years ago. Much more recent work has appeared in RIC Journal, Scud, Ygdrasil, Mobius, Offcourse, SurVision, BlazeVOX, Don't Submit!, & Word For/Word. Mark recommends the Sea Shepherd Conservation Society.