"Friday the 13th," "American Boy," and "How I Learned to Stop Worrying and Love the Bomb"
Friday the 13th
a middle of the night phone call from your mother a continent away
and suddenly the whiskey loses its edge
and the silver screen dream there in your arms
is half a world away
my limits are becoming clear
with borders controlled and emotions in check
we carry on, we grab a beer in our political acts of light
we sit in cafés, unafraid, and stare into the night
a little worse for the wear
and now, holed up in a tiny dutch town, i try not to cry
because it would be bad for my rep
but i know as i return tomorrow
i will go into a place that is once again foreign
and the weight that is in my heart outweighs any of the joy
that i have recently become accustomed to
where do we go from here?
we continue just as we always have
we persevere, we drink, we fuck
and we bask in the knowledge that no matter what
the sun will still rise tomorrow
---
American Boy
today or tomorrow
while you were out
we said the pledge
of allegiance
hands over our hearts
eyes on the flag or
gazing out the window
not hearing the poetry
of such majestic words
he speaks without a clue
i thought i loved him once
blond hair blue eyes
off soon to fight
in a civil war our fathers
did not start but joined
just the same
he stands
the perfect american boy
---
How I Learned to Stop Worrying and Love the Bomb
shout outs to the shift workers and shapeshifters
the backbones of society
the doors of the cage were opened long ago
i had just never learned to fly
the never ending cacophony of dead loves
deafened me to you calling from behind those doors
awash in the pride of poverty
and the ever present need for
self-destruction
it all seems so clear to me now
here on the eve of my collapse
that as always
i will rise up stronger than before
the warrior poet
princess of the page
whore to the written word
rejoice! for now among ye walks
a myth amongst mere mortals
drink up if we be friends and
can you get this one because i'm a little short
freedom keeps changing its definition on me
but i'm pretty sure we are headed in the right direction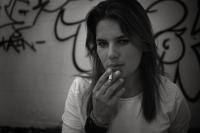 win harms has two books published by Barncott Press, In Harms Way and October 22. She has been featured in Urban Grafitti, Rusty Truck, The Poetic PinUp Review and contributed to the Bukowski Anthology published by Silver Birch Press. She is the Resident Advisor and co-founder for Rough Night Press and organizes spoken word events. win has two spoken word albums, Little Attic Sessions and 108 (The Raw Channel) and two books, boys & booze and Mokum Mantras all from Rough Night Press. She has collaborated on films, art installations, and photography exhibitions and continues to do live performance art. Her website is WinHarms.com.