"Forgetting," "Long Ago And Far Away," and "Air Too Soft"
Forgetting
18th-century electronic music
sounds like an extraterrestrial spy
caught by a cheerful family of garrulous cannibals.
I was a broken random number generator at the time,
brains eaten away by owls. Ah,
do you remember those slow, sleepy afternoons
at the very end of the Earth, bonfires, watchtowers,
waterfalls, and all the dead speaking the languages
we didn't mind forgetting?
---
Long Ago And Far Away
My grandmother ate a dog once
in order to survive. She knew
that Joe Stalin wasn't the worst
man on earth. Angels swallowed
their shackles and shadows and shuddered
and prowled around the houses
of her friends. There was nothing
to steal, she knew, except for the nettles
and twisted cutlery. I was always
lost. And the mountains slept
like hungry felines.
---
Air Too Soft
Sniveling spirits of the valley refuse to
talk in the morning
when pine trees count stray snowflakes.
Ancient wines, songs, and venoms
never exhaust retired deities.
The guard dogs,
their heads looking backwards,
never bark.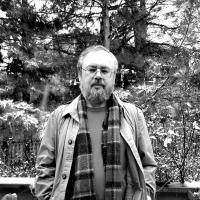 Ivan Peledov lives in Colorado. His poems have been published in Fevers of the Mind, SORTES, Book of Matches, Active Muse, Eunoia Review, and many other magazines. He is the author of the book Habits of Totems (Impspired, 2021). Ivan recommends supporting the Sunflower of Peace Foundation.