For Melissa, For Claudine, For Griselda, For Janelle
You walk the avenue,
Swing your hips like
A metronome.
Your huaraches are
worn from the
trips across rocky ground.
The avenue is loud tonight.
Flags wave in the small
winds that blow up the
calle and offer a little
relief from so much heat.
You smell the elote on
the fire, the kernels juicy
and covered in chamoy,
your mouth watering
por sabor.
When he drives to the
end of the narrow street
in his green truck you
don't even notice until
he honks and waves.
You don't want to leave
la calle so soon, but
the promise of safe
passage for abuelita
to see her hijo for
mass is worth a ride
out to the edge of town.
You walk the avenue.
You swing your hips
like a metronome.
Time is ticking away.
Please pray for peace for the families of Melissa Ramirez, Claudine Ann Luera, Griselda Alicia Hernandez Cantu, and Janelle Ortiz.
https://on.wtsp.com/2DTTZSP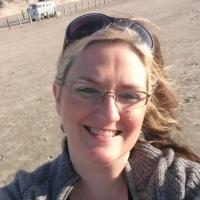 Karen Cline-Tardiff has been writing as long as she could hold a pen. Her works can be seen in Nowhere Poetry & Flash Fiction, Tuck Magazine, Ampersand Literary, Pif Magazine, and an upcoming edition of The Dead Mule School of Southern Literature. She has a Kindle edition book of poetry, Stumbling to Breathe, which can be found on Amazon.