"Even Fear, Even My Heart" and "The tide they meet is living"
Even Fear, Even My Heart
Of the air I am
Attached at nothing.
Drinking smoke
For strangled youth.
This weather depletes
Even fear.
Ceramic voices chatter.
My world beside the conversation
Severed, submerged in curdled soil.
Emotions underfed
Like wreckage aerobics,
Death patterns.
Mesmerized by
Glass lights in this world
Are more clean than water.
My patriotic recitation sprawls televised
By low fidelity silhouette tomorrow.
My flesh is wrung and focused,
Confused for mutilation,
For stillness.
Torn for windy moments.
Human sweetness hatchet human.
Feeling reflex to laughter
Stuttered, feeling
Rotten heat soaked with
Shrapnel information.
Lost.
Fields fall in as lots
In lines of rubbish
Industrial bramble.
I am worried
Less self.
Aloft in the long fog
Of cackling air.
I am in mildew interim,
Silver weather
And it is draining,
Depleting with fear
Even my heart
For losing hold of fear
Inside the darkness.
---
The tide they meet is living
So tangled anxious to
Misplace my soul in nature.
Afraid that I will find me old,
sorting my reflections.
Terrible from nervous years.
The noise of life is constant.
In time I might forget myself
In course of vivid currents.
My bastard inclination
To wrestle with the ocean.
I cannot be so rigid
As to bend the world to me.
Legacy is melting ice.
The tide they meet is living.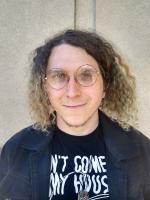 Rats Alice Trujillo is a grocery store worker, queer social dissident, and esoteric multimedia artist. They are active around Seattle and their writings appear sporadically in print and digital. Between writing and other work they arrange and perform leftfield electronic music as 'Uncanny Dandelions'. Rats recommends mutual aid over charity, but a group in need of funds is From The Heart PNW. They accept support through their venmo account @fromtheheartpnw.