"Electric Spaghetti" and "improvise"
for Jimi Hendrix
Electric Spaghetti
coils out of his Blonde Fender Stratocaster
conjured from plates of sorrow.
His musical fork
wrings-it-up-into-a-swirl.
Jimi feeds me with his hands
and teeth strumming, streaming.
His Purple Haze became my breath, my flesh.
Star Spangled Banner sizzled —
igniting the world with flames
from his guitar. Jimi flipped the Strat
over, reversed the strings—
heavy bass on the treble side. He slides
into a Voodoo Soup that blazes
along his fret strings, Little Wings
riffing out through a fuzz box rocket
to a blazing funk.
He kneels down
sets his lover on fire.
Strings pinging off—
sparks. Seattle blue fretting away
biting its nails till it can't play
strings, the pressing stings.
Jimi says, Excuse me while I kiss the sky…
Hey! You kiss back?
Our mouths become a riff.
The back of his neck smells of lyrical ink.
I stumble on his grooves—
fall asleep in his warm legato.
He cooks me breakfast the morning after.
Pours firewater in the mix.
Says, Only death is proof of life.
I clink my distilled heart against his—
                                                                            hand           him
                                                                                                              his
                                                                       astounded
                                                                                                                      guitar
---
for Miles Davis, George Russell, Bill Evans, Cannonball Adderley, John Coltrane, Wynton Kelley, Paul Chambers and Jimmy Cobb
improvise
that's what i'll do
with my broken
time
turn up jazz
relive the birth
of the cool
that bebops
into my life
chord changes
were a compass
patterns point us
to the phrase
lead us to the bar
so we can hum
along with ballads
pour our blues
into a glass
tastes good
feels good familiar
wanna get creative?
throw the compass out the window
  for
a
   change
dance
   in
   Flamenco
 Sketches
Without this Kind of Blue
I'd no longer be me
all those notes
                    shaken out from mouths
                  of trumpets
plucked from strings
       of double bass
floating from reeds
       of saxophones
chimes from keys
     of pianos
cymbals and snares from sticks
of drums
you're free to explore—
     to do anything
as long as you know
           where home is
And if you don't always know
                   where you're going
             So What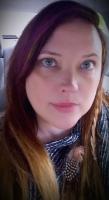 Alicia Mathias writes and lives in Syracuse, New York with a Scottish Fold feline named Zeppelin. Her poems have recently appeared in The Bitter Oleander.