"El Paso del Peso," "When Trump Falls in Love with a Wild Ostrich," and "Telegram to a Suicidal Friend"
---
---
Poems by Benjamin Aleshire. Sound-collage and engineering by Kamikaze Funtime.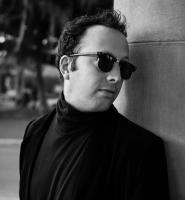 Benjamin Aleshire lives in New Orleans. His work has appeared in The Times UK, Iowa Review, Boston Review, El Mundo, and on television in the US, China, and Spain. An excerpt of his novel, Poet for Hire: Kismet of a 21st Century Troubadour is forthcoming at LitHub. Ben serves as assistant poetry editor to the Green Mountains Review, and has received scholarships and grants from the Breadloaf Conference, University of New Orleans, and VT Arts Council. Along with 93% of the human populace, he does not have a college degree. Visit him at www.poetforhire.org, and on Instagram at @benjamin_aleshire.