"Dolphins died of heroin OD," "Dead woman told to mow lawn," and "Beautiful ocean,"
Dolphins died of heroin OD
after rave at zoo, report says
I'm sorry I am only bleeding
what life has transpired faded
into heyyyyyyyy pardon me,
I'm only feeling what the need-
le has in store, pardon me, I'm
only swimming in this shallow
of your grave and the more I
dance the more heyyyyyyy​
has transpired this urgency
swimming in needles and
dolphins, nothing but finless​
void of all cute has veiled
and lifted like Colorforms​
and pardon me, I'm only
dreaming this world for
the very last time and I'm
dancing, pardon me, I'm just
---
Dead woman told to mow lawn
Let her house be a bushel of things
growing, fingers reaching, crying
their way from out of the soil
laughing makes way to sky
We ask so much of the dead
We ask so much of the living
We ask so much
When we die, mundane
responsibility lives on
for someone to complain
about
Sometimes it is best to just listen
to the grass grow and watch
the nectar pondering creates
When we die, what we leave behind
should continue to flourish
Give me an obtrusion when I die
a beautiful inconvenience that keeps
sprouting
Fuck a presidential library
I've got poems
---
Beautiful ocean
Drowning in stars
They say language is a simple skill complexed by perception of what it should be
Hippopotamuses bask on the shoreline and secrete
an oily red substance, which gives rise  
Language can be found in drowning words glowing in gossamer
Despite their stocky shape and pithy legs
hippopotamuses can easily outrun most
A lexicon mistaking intellect for morals when morals are challenged by what we can express
Hippopotamuses are territorial while in the water
both reproduction and birth occur in the water 
We are 70% water and 30% what someone has tried to assign us
The Hippopotamus has been labeled
"vulnerable," the population is in decline
The deepening of stars shines brightest when trying not to define their light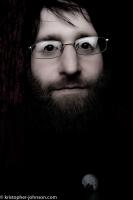 The winner of a performance grant from the Staten Island Council of the Arts and the NYC Department of Cultural Affairs, Thomas Fucaloro has been on six national slam teams. He holds an MFA in creative writing from the New School and is a co-founding editor of Great Weather for Media and NYSAI press. He is an adjunct professor at Wagner College and BMCC where he teaches world lit and advanced creative writing. He teaches poetry at Prison Writes. His latest chapbook, There is Always Tomorrow was released in 2017 by Mad Gleam Press. Since 2016, Thomas has helped in building a community of poets in Staten Island, focusing on making poetry accessible to all, either though the Life*Vest*Poetry Slam, The Who Needs Healing? Reading Series, or the free workshops offered at Staten Island Libraries and other various organizations.