"Desert Notes," "Rainforest," and "January"
Desert Notes
Dark clouds gather. Junipers
begin to rustle. The moon bathes
the canyon in a soft glow.
In my tent,
I try to read. I try to sleep.
Winds shake me awake –
I am no longer sure of what I hear.
Logs crashing? Rocks falling?
Wild animals lurking –
a coyote, a cougar, a bear?
The wash flooding
the blossoms of spring?
---
Rainforest
I don't remember how
we got here, at the end of a road
to a rainforest.
Lianas hang from branches
over the wet earth and monkeys
swing from the vines.
I know what you wanted.
I did not love you, not
in the way we are taught to think
of love, but
you held me, listened to me, made me
say what I needed.
You let me say what I wanted.
---
January
Geese gather on the lake, on the border
of water and ice. I walk on the shore,
watch the birds waddle and lift their wings
as if they wanted to fly. They swim
in a blue like the blue of the sky, feeding
on grasses, maybe a minnow. The sun
casts its last rays on the mountains beyond
the city, where the snow is on the verge
of breaking – and I keep thinking, bearing
witness is the deepest form of love.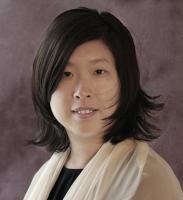 Teow Lim Goh is the author of Islanders (Conundrum Press, 2016), a volume of poems on the history of Chinese exclusion at the Angel Island Immigration Station. Her work has been featured in Tin House, Catapult, PBS NewsHour, Colorado Public Radio, and The New Yorker. She lives in Denver.