"Delicate Indeed. Yet So Fragile" and "Public Discourse"
Delicate Indeed. Yet So Fragile
Elizabeth Bishop Talks about Her Poem, "The Map"
I was very ill with asthma and the flu, and was alone
on New Year's Eve in my tiny Greenwich Village
flat, an unadorned place where that bleak evening
 
I began to stare at a map, a framed map of the North
Atlantic, containing the Maritime Provinces,
Greenland, Iceland, and Scandinavia.
 
I was sitting on the floor, imagining travel
and appreciating the mapmaker's colors
that I incorporated in my poem: "shadowed
green," "the fine tan sandy shelf,"
 
"Labrador's yellow."  I ask, "can the countries
pick their colors?"  And again I ask, "What
suits the character or the native waters best?"
 
Is this not a crucial question about maps?
Poetry, like cartography, can condense
the world aesthetically, until we see
that the last line of my poem is not ambiguous,
but lucid, perfectly lucid: "More delicate than
the historians' are the map-makers' colors."
 
Delicate, indeed.  So fine in texture,
yet so fragile.
---
Public Discourse
How do we map the contemporary
universe of discourse?  What are
the magical, authoritarian, and
ritual elements of language?
Magical language is symbolic
terrain that can be mapped,
now uncharted, but chartable.
Evoke some magic words.
Cast a spell. Declare your soul name.
 
The connection between humans
and the world is always
mediated by the word.
Authoritarian language is the terrain
of power: Obey the rules.
Do what you are told.
Describe the kind of tyrant
you are and will always be.
 
Ritual language is the terrain
of the profane and the sacred.
Curse and pray, employ incantation.
Consecrate language as a suburb
or ancient city: map it, synoptically
represent the words you blurt
and locate them in space.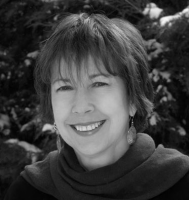 Eleanor Swanson holds a PhD from the University of Denver. Her poems have been featured in The Missouri Review, the Southern Review, Black Warrior Review, the Denver Quarterly, the Bloomsbury Review, the American Poetry Journal, and other publications. Her first poetry collection, A Thousand Bonds: Marie Curie and the Discovery of Radium, won the Ruth Stevens Award, and her second collection, Trembling in the Bones, was reissued in 2013 (3: A Taos Press). Her third collection is Memory's Rooms (Conundrum Press). She has published a novel and two collections of short stories. Her second collection, Exiles and Expatriates, won the 2014 Press Americana Prize. She mentors incarcerated men at the Sterling Correctional Facility. Eleanor encourages people to donate to the National Resources Defense Counsel.