"Das Kapital," "Everybody thinks they're Dexter," and "Old Rhumba"
Das Kapital
1. Marx's Maxim
Nothing ad-
ventured
nothing
gained
when you
rely on
toxicology
instead
of taste.
2. the beginning of the bronze age
                        Sympathetic alloys
             opened their doors
                               & introduced
                   the masses
                           to misugaru.
3. do odd le
Once has availed hirself
of a brace of budgerigars
inside of which are a trice
of calculators. They are
truly a force to be reckon-
ed with, suffice to say.
4. business-cycle fluctuations
A new anti-fracking
campaign is using equal-
span, staggered biplane
wings to throttle down-
load speeds of any Irish
real & nominal exchange
rates that may threaten
macroeconomics models.
---
Everybody thinks they're  
A few posters for natural 
remedies. Spiderwebs in all
directions—otherwise a 
spartanly-decorated room.
Nowhere to walk, not much
to talk about. Indolence / the
characteristics thereof / belli-
cose / brocade / steroid abuse.
It's for a good cause said the 
goth girl with turquoise hair
paused outside the music store. 
Inference. Age has nothing
to do with it added the boy 
who had just stolen something.
---
Old Rhumba
Otherwise it is
lay out
money. This way
no change, ex-
change, bringing a-
long a plate
to the party
                    ex-
cept it's not
a plate but
a treasured
silk furushiki
in which
are not wrapped
but
       balancing
there by their
own en
jamb
ment
          not
the books
but the passages
remembered
not the passages
but the dotted
across the
paysage
               inter-
connections not
the connections
but the single acts
of unexpected thunder
(Cy Twombly triptych, an
innocent & pre-
plastique Michael
Jackson concert, a
touched de Chirico).
But there is
no party
so
who, then,
shall I leave
them with?
these
memento
mori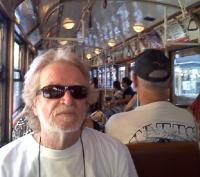 Mark Young's first published poetry appeared over sixty-two years ago. Much more recent work has appeared in RIC Journal, Scud, Ygdrasil, Mobius, Offcourse, SurVision, BlazeVOX, Don't Submit!, & Word For/Word. Mark recommends the Sea Shepherd Conservation Society.