Tiffany's mother named her for a movie she'd never seen, featuring a jewelry store neither she nor her daughter were ever likely to see. After a time, Tiffany married a Nimrod. The Nimrod had "Jesus loves you," tattooed on his forearm. He liked her name. She liked his farm.
She married him and his barn, the one where he kept his red corn sheller. At the wedding, she carried daises and the Baptist ladies provided a surplus of good-to-eats.
Tiffany and the Nimrod took their first night in a motel just past the truck stop, in a scarlet and white bridal suite. The motel had plastic furniture in the lobby, and "Jesus loves you," graffitied on the condom machine in the public restroom. Then they got back to the farm. 
Willie Nelson has said, when he first wrote the song that became Patsy Klein's classic hit "Crazy," he called it "Stupid." He did not mention what is known of desire and piety, that both make you crazy, that both may pass.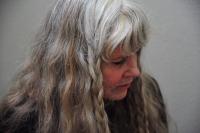 Wendy Taylor Carlisle lives and writes in the Arkansas Ozarks. She is the 2020 winner of the Phillip H. McMath Post-Publication Award for The Mercy of Traffic and this spring, Doubleback Books reprinted her 2008 book, Discount Fireworks, available free at: Doubleback Books. Her website is www.wendytaylorcarlisle.com. Photo by Greg Comnes.