Riddle me this:
 
WHICH IS WORSE?
 
         Being depicted in
              History lessons
                    As villains
 
OR
 
         Being erased from
               History lessons
                       Completely?
 
WHICH?
 
        Your grade schools
               Are veering
                     In that direction.
 
It's the 2nd stage following
      The gradual erasing
              Of Blacks from reality—
 
By cop,
      By bigot,
             By our own hands,
 
WE ARE BEING ERASED.
 
         Now we're not
                Allowed to keep records
                     Or teach our young on them!
 
NOT IN YOUR CLASSROOMS.
 
         By statewide,
                 Countywide bans,
                        By firing teachers who dare to share,
 
OUR HISTORY STAYS BURIED.
 
         The grasp of truth
               About this land's beginnings
                            Sacrificed
 
FOR YOUR CHILDREN'S COMFORT.
 
Lest we forget,
 
       By force AND
             Force of will,
                     My people constructed
 
This country's, this state's
         This city's, this town's
                  Infrastructure
 
Your people,
        Prejudiced people, repeatedly
                Claim as
 
YOUR GREAT ACHIEVEMENTS.
 
As sure as
       Sunset brings
               Day to an end,
 
My ancestors have built
         All your blue eyes survey.
 
As sure as
         Descendants of the
                United Slaves to America want reparations,
 
My ancestors have built
         All your blue eyes survey.
 
BLACK HANDS
 
Have raised your sky-scraping
Buildings from the ground on up,
Paved your roadways w/ cement & gravel,
Pieced together those strong, sturdy
Iron bridges over water, the ones
You cross on morning & evening auto commutes,
Drove buses, trains & cable cars
To send YOU to work, home &
The neighbourhood bar,
Toiled in your factories, warehouses,
Offices & power plants,
Rocked your loud crying babies to sleep,
Cleaned from front to back
The rooms of YOUR HOMES,
Laid down miles of iron track & wood,
Hammered in the spikes for
Railroads along w/ yellow hands
For the same criminally low wage,
Tended to open fields of vegetation—
Vegetables, grains, fruit, sugarcane
And yes, King Cotton—
So all of you can eat well
& wear decent clothes—
 
1 city in particular—
         Former home of mine—
                 Was burnt to a crisp in
 
A war between states—
         Arose from war's ashes
                  Like a phoenix in the southeast
 
ATLANTA
 
Rebuilt
        W/ work
                  From Black prisoners, White corporate punishment—
 
SLAVERY SURVIVED IN ANOTHER FORM.
 
Conflict like this,
        Between races,
              Between classes,
 
Lie @ the heart
       Of Amerikkka's & Capitalism's
                 Conjoined past—
 
As sure as
      Wet & dry
             Are opposite feelings,
 
My ancestors have built
         All your blue eyes survey.
 
Including your schools.
 
Riddle me this:
 
HOW LONG
 
Do you think
      Your laws can prevent
               Truth from reaching young ears?
 
HOW LONG?
 
The spotlight
         Is
             Switched off
 
On tales of Europe,
         The original 13 colonies,
                 The 1st Thanksgiving dinner.
 
EUROCENTRISM STOPS HERE.
 
One-sided
         Stars & stripes Liberty
                Sugar coat from your schools
 
Sweetened young minds
        Enough to forget
                 Their own struggles to survive here—
 
Riddle me this
 
1 last thing:
 
W/out our hands,
        W/out our legwork,
                  W/out our labour,
 
HOW WILL YOUR CIVILISATION RUN?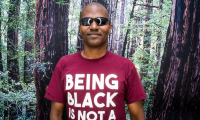 Dee Allen. An African-Italian performance poet based in Oakland, California. Active on creative writing & Spoken Word since the early 1990s. Author of 7 books--Boneyard, Unwritten Law, Stormwater, Skeletal Black [ all from POOR Press ], Elohi Unitsi [ Conviction 2 Change Publishing ], Rusty Gallows: Passages Against Hate [ Vagabond Books ] and Plans [ Nomadic Press ]--and 68 anthology appearances under his figurative belt so far. He recommends Save the Redwoods League, 350, POOR Magazine, and Color of Change.