"Attack" and "Sunday Morning"
Attack
Having shortness of breath and chest pain,
I thought 'heart attack', but
no
only arterial heart disease,
same as killed my father
at 33
high blood pressure and
stroke, he
collapsed in a grand mal
seizure
as I played on the stairs
with my Army men…
I remember his red & white checkered
bathrobe and
Gramp, standing, silhouette in the bathroom window
and
a man wearing
shiny shoes,  and
carrying a black bag,
stepping over my soldiers
who looked up to me
awaiting the order
to attack the hillside.
---
Sunday Morning
Church bells ringing
and a priest, on
television, makes the sign
of the cross--
Grandma says her rosary
Grandpa returns with the
Sunday newspaper;
my brother and sister fight over
the Comics section;
my Uncle rises from bed
in time to watch 'Community Auditions'--
steam from the kitchen,
kettle on the stove whistles,
smell of pot roast in the
holy air.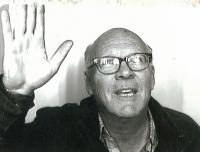 Wayne F Burke's poetry, short stories, and non-fiction, has been widely published online and in print. He is the author of eight published full-length poetry collections and one published collection of short stories. He lives in the Green Mountain State, Vermont (USA).