"As Ever" by Joanne Kyger
Joanne Kyger died yesterday, March 22, 2017. In 2003, I reviewed her 2002 book, As Ever, Selected Poems for the now-defunct nthposition. I place the review here.
For more than 40 years, Joanne Kyger has been a vital piece of the poetry scene in America. And Penguin, that great New York bastion of the very best poets, has finally, wisely, acknowledged her with her newest book, As Ever: Selected Poems. Weighing in at over 300 pages, edited by Michael Rothenberg and with an introduction by David Meltzer, As Ever is an invaluable guide to the life and mind of this poetic luminary.
A unique and dynamic voice, her poetry has helped shape the wordsmiths of the latter half of the 20th Century. Her friends and fans include many famous figures from the Beat, New York School, and Black Mountain literary movements. She is an integral part of recent literary history: Robert Duncan once attempted to burn a poem of hers in public, as she tried to read it aloud. She watched as police cars arrived at Brautigan's house, not knowing she would soon learn of his suicide. She has been there, a significant figure in the subculture of the San Francisco Renaissance, all the while producing her own brilliant and sensitive works.
Which raises the question: how is it that no one my age knows who the hell Joanne Kyger is?
Obviously, I haven't polled every Gen-Xer on this issue. But I run with a well-educated, poetry-loving crowd. These are the people who, after reading On the Road in high school, promptly left their studies and went on the road. These are the people who read Howl like good little intellectuals, then went on to read Gasoline, The Coney Island of the Mind, and coincidentally everything else City Lights ever published. My friends take poetry seriously, and look upon the icons of the literary avant-garde and the Beat Generation in the same way some people idolize Elvis. If you used the word "beatnik" in front of them, they won't get offended at your barbarism, they'll simply be baffled by the foreign term. Yet when I told my friends that Penguin was finally publishing the selected poems of Joanne Kyger, I almost invariably got the response: who?
Now, I think we can safely say that the women of contemporary literature get a bum deal. I wasn't around when Kerouac went on television proclaiming the revolution of the "angry young men," but we all get the idea, no? No knock to the great men who shocked the world and changed the way we define art, but if the women of the movement are less famous, it's surely not due to inferior writing.
Which explains a little, but my friends all know who Diane DiPrima, Alice Notley and Anne Waldman are. How did they miss out on Joanne Kyger?
Fortunately, when we want to ask questions about Kyger, we now have an excellent place to look. When a big-time publisher puts out more than 300 pages of poems dating from 1958 to 2001, it's a safe bet they intend it to be a definitive edition. As Ever is indeed the definitive guide to Joanne Kyger, and it's here that we'll find the answer to our question.
It's not always clear, here, where one poem ends and the next begins. Some have titles, OK, that's very traditionally convenient. Many poems are dated (a valuable resource for people learning of Kyger only recently), but many are not. Some pages include only a few words, but others have several passages per page. Some passages have funny squiggly lines above them that in some way, no doubt, imply separation, but other bits of text have funny little diamond shapes that might imply the same or a different sort of separation. Since I can't read squiggly line or funny little diamond, and honestly doubt that these symbols, as attractive as they are, would have much to say to me, I was left to read the book the way it should be read: all the way through, as one continuous piece of beautiful information, a clear glimpse into the mind of the author.
"I saw the / dead bird on the sidewalk / his neck uncovered / and prehistoric," the book begins. It could be Dickinson, in the way that it takes the symbolism of nature and makes it immediately relevant to those who never go out of doors. It takes on a slow, metaphysical journey, stopping to extensively discuss Greek myth, literary history and politics, the nature of the Buddha, and of course the weather in Bolinas, California.
You'll occasionally find anger in these poems, and you'll occasionally find despair, self-loathing, and confusion. But mostly, you'll find a woman living in peace with herself and her surroundings. Page after page, Kyger describes her universe with respect, compassion, and utter calmness. Consider this passage, from a page with a squiggly line on top of it:
Peter's rucksack got swept away last night
  at dusk
           by 30 feet dark silver monsters
     It was life or death when they started to rise.
I grabbed Sam's muffins from the table
           and put them in the block house.
Calm down said Peter as I started to laugh
           madly. Put sensible things away
           like those boots under the table. OK.
Peter bounds down the beach. With great
           sounds. Like the last lap of a relay
           as the last of Sam's structure began
           to tumble.
After reading this book, it seems inconceivable that there's ever been a moment when Kyger lost her sense of humor. And her sense of play is sharply reflected in these pages. Consider this simple poem, 'Good Manners':
       The Bodhisattva waits
     until everyone is finished
   before he excuses himself.
Kyger's poems frequently involve unusual word and line placement across the page. In the Foreword, Michael Rothenberg explains that Kyger is "laying out each word, phrase, and space in 'projectivity' - an innovator in the 'projective line breath.' She uses the page for scoring each moment of mind/breath to reflect her experience." She also uses this projective technique to convey a great sense of lightness; in her irregular line structure and spacing, the way the conflicting poems rub up against each other, and the way they're arranged seemingly erratically on the pages (often with squiggly lines). This lightness exists as an undercurrent in her darkest pieces. Witness this excerpt:
    Watershed and Cosmos
    Still this April 7
                                                                 I am the Bodhisattva
                 of this day
                                                     Yeah!
    April 8
                            How can I be so awful
Kyger's voice is probing and profound. Often, you'll find her taking hard, impassioned looks into her own psyche and habits, fearlessly analyzing her own wants and motives. But there's nothing navel-gazing about Kyger's self-analysis. She analyzes like a woman who has already discovered that there is no difference between the world within and the world without. She studies divinity, and she studies breakfast. She seeks poetic truth monomaniacally, but she seeks it unpretentiously.
An unpretentious poet. Can you imagine? It's hard to do; I suggest buying a copy of As Ever so you can get a better handle on the concept. And I think now we've come to the heart of the matter, that is, that whole no-one's-ever-heard-of-her thing.
At the dawn of the 21st Century, Western poetry is dominated by the concept of hunger. That's not really surprising. In our culture, even writers who make fortunes are looked upon with suspicion; penniless writers are generally thought to be in the same class as lunatics. And the concepts of poet and penniless writer are intertwined more tightly than synonyms. An unsuccessful novelist has hope of making it big. A poet must perform for other reasons. Of course we're hungry. There is no career less advisable; anyone who chooses this career must do so out of a desperate need to write poetry.
And Kyger is hungry. She seeks to find the truth; an endless, uphill struggle that is best served by becoming a poet. But after reading As Ever, it's very clear that she's not hungry for our attention. Her poetry isn't motivated by ego or the need for self-exposure. She's not asking for our forgiveness. She's not lying prostrate before us. She is simply seeking truth through her pen, and she is kind enough to invite us along for the ride.
After reading As Ever, the question is not "Why has no one my age heard of Joanne Kyger?" but "Why does Joanne Kyger share her poetry at all?" Oh, she has something to say all right, but not in the desperate, cloying way that has become so common in my generation. She speaks with a dignity and grace that make it clear: we need her words, but she does not need our praise. She'll keep on writing without us. Read As Ever because it's unique in contemporary poetry. Read it because the author doesn't need you to.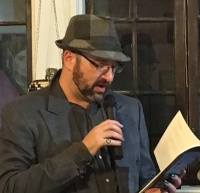 Jonathan Penton founded UnlikelyStories.org in 1998. His own poetry books are Last Chap (Vergin' Press, 2004), Blood and Salsa and Painting Rust (Unlikely Books, 2006), Prosthetic Gods (New Sins Press, 2008), Standards of Sadiddy (Lit Fest Press, 2016), and the electronic chapbook Backstories (Argotist E-books, 2017). He lives in New Orleans, where he is working on a book of ekphrasis and a book of haibun with Cassandra Atherton. Jonathan recommends the Southern Poverty Law Center.