"After the Age of Innocence," "How Do You Testify?," and "An Epigraph for Someone Alone in the Ground"
After the Age of Innocence
Do you imagine
You really see me?
 
My old instrument is well
Aware of the contours
 
Of your hand. All that tissue
And bone, all that
 
Fissure and fizzle,
The lines drawn,
 
If in a circle, will
Return in the contours
 
Of the cell, all that
Separates matter
 
From the band
And their careening
 
Crooner in his
Cloak of invisibility.
---
How Do you Testify?
             (1)
 
Staggering feats. Sweeping features. Sleeping figures. Silent movements, fetishes, undying wind …
 
 
             (2)
 
A trickle of pity, a hidden mountain peak, porcupines in your sleep, the sugar in nighttime, the black that binds you to me, the as-and-when, that ditch of pickpockets, the lightning on a fuse, the long lashes of your look, the rocks that climb out of the sea, the fish on the shores of Galilee, the undying vision, the empty wave.
 
 
             (3)
 
Hold that empty wave silently sweeping, the ascendant in ascendance, the staggering numbers, the singer in half-time.
 
 
             (4)
 
How the trickle of pity unfolds, how the decadence of liturgy is a bitter taste of blood; or, fishing deep, the vermin streaks and you at the threshold, all those sweeping features, all the rocks that climb out of the sea, all the thieves clinging to the peaks.
---
An Epitaph for Someone Alone in the Ground
Be heartened, dear soul,
With all your colors flying
 
Your spirit will hasten
To its eternal end, toward
 
The foothills and as far
As the eye can see; here
 
It rains apricots and
Every night is a Ramadan.
 
Everything smells of almonds,
Red wine and vinegar,
 
Of garlic and mint,
Of black tea and nicotine.
 
Tarry along, as they say
In the old country, I have
 
One red apple saved
For you, my heart.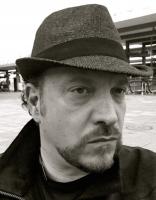 Marc Vincenz is a poet, fiction writer, translator, editor, musician and artist. He has published over thirty books of poetry, fiction and translation. His work has been published in The Nation, Ploughshares, Raritan, Colorado Review, World Literature Today, Notre Dame Review and The Los Angeles Review of Books. He is publisher and editor of MadHat Press and publisher of New American Writing. His newest books are A Brief Conversation with Consciousness (Unlikely Books, 2021), There Might Be a Moon or a Dog (Gazebo, Australia, 2022), 39 Wonders and Other Management Issues (Spuyten Duyvil, 2022) and The Pearl Diver of Irunmani (White Pine Press, forthcoming 2023).