"Affairs of State" and "Flint River"
Affairs of State  
It is an association that promotes a way of life
                                —William O'Douglas
When Hades ran for governor
against a citizen-farmer 
Persephone came forward 
and called him her kidnapper 
 
When Athens asked for proof 
Persephone pointed to winter
 
Hades said, yes, it was true 
Persephone had lived with him
but it was her curiosity which brought her
to the underworld
 
Then why am I forced to come back
six months out of every year?
Persephone asked
 
Hades replied that rules are rules
Anyone who tastes our fruit
shall remain
consider six months above ground
a bargain
 
Persephone's mother, Demeter
did not know the reasons
for her daughter's absence
so she cast her vote for Hades because
he was the candidate with experience
 
Daughters shall not cause
their mothers grief
the priests say
Persephone is at fault
she shows no restraint
and the will of the Gods
is absolute
 
Persephone insists she never tasted the fruit
That claim comes from my cousin
Ares' son, a known liar
 
To which Demeter replied
Ares is my nephew
and though I despise him
he has royal ichor
 
So do I, mother, so do I
Persphone replied
 
Yes, darling, Demeter agreed
except in matters political
where men are more diabolical
which is why they retain the right
to husband the affairs of state.
---
Flint River 
Chassis river 
I sighted a shark fin 
that turned out to be a 
Cadillac 
We use you for rust removal 
in our body shop
I drive an Olds with no seatbelts 
made right here beneath sneakers 
strung along telephone wires 
there are aqua tabs in my glovebox 
with a potato for the radiator and jumper 
cables in the trunk
When we were children
we put our feet through the floor 
and kept our parents' car from skidding 
into the Flint 
The city was a tinderbox 
auto execs pocketed for use 
on camping trips to Fire Lake 
where they wore Gypsy Leathers 
and cursed welfare mothers.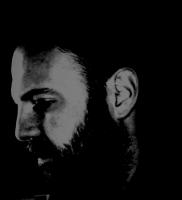 Jeremy Nathan Marks lives in Canada. Recent works appears in places like Flash Fiction Magazine, Dissident Voice, Sip Cup, Garfield Lake, Expanded Field, 365 Tomorrows, Free Flash Fiction, and Microfiction Mondays. His full-length poetry collection, Of Fat Dogs & Amorous Insects is published by Alien Buddha Press (2021). Jeremy recommends the Center for Biological Diversity.