Artist Statement
I work in a variety of media, both visual art and writing. My art practice is content driven — issues of identity, immigration, income inequality, racial disparities, the environment, migration etc, are explored through making art and writing. My visual work is usually based in photography, often using my own photos to make prints. This poem and images are from a body of work about immigration and migration that included artists' books, etchings and work on paper. I was thinking about people displaced by war in the Middle East, ethnic violence in Southeast Asia, economic desperation, violence and climate change and the pull between different lands and cultures.
"Advice for Travelers" was originally published in
From Everywhere a Little: A Migration Anthology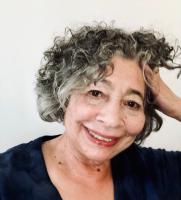 Aileen Bassis is an artist and poet. Her work on paper includes book arts, installation, printmaking, photography and painting. She received a B.A. in Studio Art from SUNY at Binghamton and a M.A. in Creative Art from Hunter College. She received two Artist Project Grants and two Su Casa grants from the Queens Council on the Arts, a Fellowship in Photography from the New Jersey State Council on the Arts, a Dodge Foundation Fellowship to the Vermont Studio Center, and two grants from the Puffin Foundation. She was awarded two artist residencies in poetry to the Atlantic Center for the Arts.