"A Warning to the Mild," "How Soon?," and "Skin"
A Warning to the Mild
It's not too late to be early, so why
Should that save you from bothering
To forget about the trouble
Before you went to get there? Where
 
Are you now, anyway? The door
Is pink, I think, & it's useless to
Question the angles of the walls involved
But I didn't notice that at first, when
 
Somehow, it went unrehearsed
For a minimum introductory pillow— the wind
On fire like one's eyes, or the next
Great theme that will soon become apparent
 
For five dollars—
Ten, if you need it sooner. Then
Don't forget to remove it later
From the pillow of your shadow, or
 
Its apex, lest all time be apparent
& Consumed by love, & you—
As clear as skies— become
Wasted by us, facile townspeople
 
Who thirst for your thumbs [dead tourist eyes]
As winningly as if we'd lost all peace.
---
How Soon?
This didn't work out later, & it won't walk out now.
Ms. Isolde wants to buy you a drink, I think.
One owes the dead little but
 
The truth. Whose truth? Is this
Music that we're listening to
Now? The truth comes later, whether
 
Frightening or sad. & The truth is music, actually—
I mean, poetry. Whose truth are you listening to
Now? & Where is now? The co-author of a song I admire
 
By a similar title is actually a narcissistic
Piece of shit, I think, but I'm really sorry to be
So polite in my rhetoric
 
As if words didn't matter, & their saints
Came later
Sooner than never, in a frenzy
 
Of the rational lives of the saints, neither
Glutted nor deplored.
The poet is everything you never thought you
 
Swore—
Brought in on rope, or smoke
On paper; quicker than life, & luckier
 
Than death & its
Eventual
Delusions.
---
Skin
                "Language which is like a fruitskin around fruit." —Lyn Hejinian
    1
 
Ideas, too, are things
You might forget them, like the name of a road
Or a story told by your ex-brother-in-law
While you were on vacation
 
It was, in fact, cold everywhere
Everywhere is here
In humid or dry air
With a crack in the binding, or
In a moment's perdition
 
Come again? Don't knock it
Visitors are out of luck
She opens the agate windows & a drawer full of
Cardboard. Something falls in.
What a feast for the ears!
 
If you go, then let me be
Walk back through the
Tufted areas with fret bars pulsing
The skein of particulate evening
If any of that had been recorded, or could be believed
 
 
    2
 
Even the land doesn't know we're here
Forever in contralto terror
Memories of glass birds
Linked to wicked speech
 
We stood on a mirror & laughed
Great Antarctica is opening her
Doors to us
We sat by the bed & said, "bed"
It was a real throwback to shadows
 
A helix of bolstered coves
Down the middle, then with shimmers
Just as before you were nearly
All this time
Never even gone
 
 
    3
 
Is it a barrier or shudder?
Does it contain you?
Is it contagious, & can you
Catch it with the elbows
Of whatever had been deviling you
Before what you already knew
Yet barely understood how to traumatize
As a synonym for hate
Which so far hadn't occurred
To you as part of the sequestering
Though it had been a long time, & you
Weren't sure how exactly to go
About it or under if you
Had any choice, & you don't
As a sign we're not so fortunate
Exactly, though we remain
& Would land safely
If we could find any field after all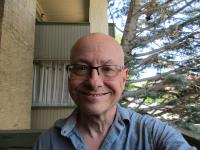 Other poems from Mark DuCharme's sequence Complicated Grief have appeared in BlazeVOX, Blazing Stadium, First Literary Review- East, Moss Trill and New American Writing. He is the author, most recently, of Here, Which Is Also a Place, published in 2022 by Unlikely Books, and Scorpion Letters, also from 2022 and published by Ethel. Other recent publications include his work of poet's theater, We, the Monstrous: Script for an Unrealizable Film, published by The Operating System. He lives in Boulder, Colorado, USA. Mark recommends the Southern Poverty Law Center.