"A Turkey Runs Away" and "Wood Stork"
A Turkey Runs Away
In
the territory
of things
we've never
known,
a turkey
runs away –
sinking
into sand
navigating
scrub
setting up
space
between
there + here
us + them
you + me.
---
Wood Stork
Watch, he says:
my prey will come to me.
Fish were slipping back
to the garden, hoping
to emerge as something else.
They were snapped up,
chosen by the Preacher Bird,
chewed into tasty sermons.
We found them collecting souls –
a concealment. A chill.
We found them bent,
fretting for extinction.
Sit and ask, he says,
or confess it all to me.
He senses fear like he
feels fish and I am
full of fear. Vampire, I think,
waiting for our world to bleed.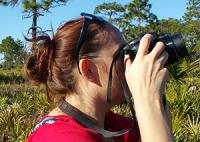 Cari Oleskewicz is a writer based in Tampa, Florida. Her work has recently been published by The Fourth River, Literary Orphans, The Collapsar, Lightening Key Review, Sandhill Review, Five2One Magazine, and PITH. She is currently at work on a collection of travel essays and a project involving birds, poems, and photography. You can find her on one of central Florida's hiking trails or on Twitter @carilynn72.