The song I walk here
                          —Brian Swann
 
 
             I. Word magic:
 
shot through with scrawls,
traces and tracks, with broken twigs,
 
lost feathers, scat, trailing off
into the print of deer, of hare;
 
invoking the throb and the pulse
of the unseen, bear hunts with meaning.
 
 
             II. Binding the spell
 
to recite a story, and then,
to objectify a separable entity—
 
subtle shift of the senses
in the shapes and forms of intercourse.
 
 
             III. Metaphysics
 
invented the world, in the very least
an actuality of it, just as our collective
 
hallucination invented metaphysics,
separating out the divine. Now,
 
remove everything added
in the process of knowing.
 
When you find you only talk
to yourself. What then is left?
 
 
             IV. Something behind
 
that thing appearing on the horizon?
Surging thoughts about facts?
 
Surely there is an infinite number
of small worlds found within
 
this world, and the task of life
is to start over and over, watching
 
the sky repeat in blue and
white and blue, then fade
 
into the perennial memory
of snow.
 
 
             V. How preposterous
 
the way those golden proportions
lift the figures of masculine beauty,
 
how a stone colossus raises his spear
in defiance of the weather
 
and how the brushstrokes
of all these years are the dream
 
in the far-seeing eye at the dinner table;
and yet, how, in one effortless flourish
 
the sun paints shadows at our feet,
and how the ghosts of a thousand
 
generations are whispering:
 
Please let me.
Please let me live.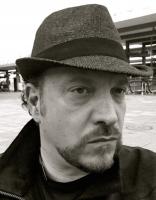 Marc Vincenz has published fourteen books of poetry, including more recently, Becoming the Sound of Bees, Leaning into the Infinite,The Syndicate of Water & Light, and Here Comes the Nightdust. Vincenz' novella set in ancient China, Three Taos of Tao, is forthcoming from Spuyten Duyvil Press. Vincenz is also a prolific translator and has translated from the German, Romanian and French. He has published ten books of translations, most recently Unexpected Development by Klaus Merz (White Pine, 2018). His work has received fellowships and grants from the Swiss Arts Council, the Literary Colloquium Berlin, the National Endowment for the Arts, and the Witter Bynner Foundation for Poetry. Vincenz is editor and publisher of MadHat Press, and publisher of New American Writing.