May you know your neighbors' names. May those names cause
more pleasure than frustration. May they applaud
the life you choose to build—your triumphs and flaws—
your loyalty and trysts—your science and your gods.
May you work with good people. May your hours
stay loose and easy. May you remember how
to share the small things—the pittance you can grab—
that grows upon sharing so that you may have
enough to last the season though this season
will bring hurricanes and corpses 'til the sun
conquers your orchards and fields both. May you find
new courage then. May your neighbors come in time.
May their loved ones surround you as you recall
all you've lost. May you never need a wall.
May your lamps burn bright beside the golden door
and set fire to ICE until it is no more.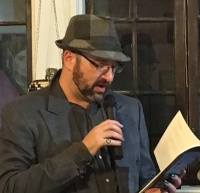 Jonathan Penton founded UnlikelyStories.org in 1998. His own poetry books are Last Chap (Vergin' Press, 2004), Blood and Salsa and Painting Rust (Unlikely Books, 2006), Prosthetic Gods (New Sins Press, 2008), Standards of Sadiddy (Lit Fest Press, 2016), and the electronic chapbook Backstories (Argotist E-books, 2017). He lives in New Orleans, where he is working on a book of ekphrasis and a book of haibun with Cassandra Atherton. Jonathan recommends the Southern Poverty Law Center.