"A line from Charlie Watts," "awestruck / by a / super blood moon," and "Trapeze Act"
A line from Charlie Watts
Start at the top of the list
& work your way down.
Social opportunities are
increasingly circumscribed.
 
Your brain processes a
conversation & finds that,
whatever was said, you
didn't hear it that way. What
 
else is going on around
you? Try playing a different
audio file. Remember, we
are not alone in this world.
 
R.I.P.
---
awestruck / by a / super blood moon
The signal strength of
the patient's perception
of his inner self sucks. That's
 
a clinical expression—take it
to mean that his concept
"false-self" is probably
 
not aligned with the
vertical centerline of
the business communities
 
of Southern California
but with the distal end of a
dog. If not that then it's
 
because he wears high heels
& tries to save a few bucks
here & there on his power bill.
---
Trapeze Act
So maybe there
does come a time
when everybody freezes
          their painted face
          in place & goes
scurrying big-
footed off to the
          showground to
find the circus
of their desires.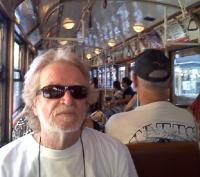 Mark Young's most recent books are The Toast, from Luna Bisonte Prods, The Sasquatch Walks Among Us, from Sandy Press, and Songs to Come for the Salamander, Poems 2013-2021, selected and introduced by Thomas Fink, co-published by Meritage Press & Sandy Press. Mark recommends the Sea Shepherd Conservation Society.