"A line from Charlie Watts," "awestruck / by a / super blood moon," and "Trapeze Act"
A line from Charlie Watts
Start at the top of the list
& work your way down.
Social opportunities are
increasingly circumscribed.
 
Your brain processes a
conversation & finds that,
whatever was said, you
didn't hear it that way. What
 
else is going on around
you? Try playing a different
audio file. Remember, we
are not alone in this world.
 
R.I.P.
---
awestruck / by a / super blood moon
The signal strength of
the patient's perception
of his inner self sucks. That's
 
a clinical expression—take it
to mean that his concept
"false-self" is probably
 
not aligned with the
vertical centerline of
the business communities
 
of Southern California
but with the distal end of a
dog. If not that then it's
 
because he wears high heels
& tries to save a few bucks
here & there on his power bill.
---
Trapeze Act
So maybe there
does come a time
when everybody freezes
          their painted face
          in place & goes
scurrying big-
footed off to the
          showground to
find the circus
of their desires.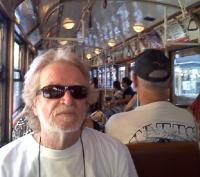 Mark Young's first published poetry appeared over sixty-two years ago. Much more recent work has appeared in RIC Journal, Scud, Ygdrasil, Mobius, Offcourse, SurVision, BlazeVOX, Don't Submit!, & Word For/Word. Mark recommends the Sea Shepherd Conservation Society.