"51 Spoons in Kansas" and "8 Digit No."
51 Spoons in Kansas
The yellow brick road belches
under the weight
of
bulldozers, eighteen-wheelers,
tourists seeking shiny shoes.
Halfway there
the cows
gather in groups
against the shadows.
The ruts of the Santa Fe
Trail
dried up with rough hands,
looks like it was dug up
with sharp metal spoons.
I pick up my camera
aiming it at the sky
and stop to stare at my reflection
as it crosses the Colorado
state line.
---
8 Digit No.
A pile of syllables
woven into a quilt,
wrapped around a light pole.
It wiggles against the pull
of tiny hands, wrinkles its
nose in the flashbulb.
A pile of syllables
can't explain thirsty feet
plowing through mud, paper
cups, milk jugs with unread
expiration dates.
A pile of syllables
sharpens its reflection in
the muddy water.  It seeps
underneath the mattress and
lifts it up almost whole.
A pile of syllables
buries itself under the fingernails.
They turn brown and green.  It
takes days, sometimes weeks to
wash clean.
A pile of syllables
paints no explanations but
whispers its imaginations
spun on the lips in invisible
dance hall hallucinations.
After the answers are conceded
the lips are cracked and dry
with nothing concluded
except the streetlight's ability
to wash out the night.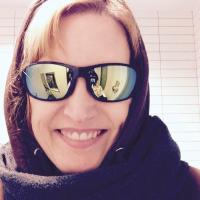 LB Sedlacek has had poems and stories published in a variety of journals and zines. Some of her poetry books are Swim (Alien Buddha Press), I'm No ROBOT (Cyberwit), Happy Little Clouds (Guerilla Genesis Press), Simultaneous Submissions (Cyberwit), and Words and Bones (Finishing Line Press). Her first short story collection, Four Thieves of Vinegar & Other Short Stories came out on Leap Day 2020 from Alien Buddha Press. She also served as a Poetry Editor for ESC! Magazine and published the free resource for poets, "The Poetry Market Ezine," from 2001-2020. In her free time, LB likes to swim, read and attempt to play the ukulele. She recommends the Caldwell Humane Society.