Unlikely Stories Presents


"I sometimes think of what future historians will say of us. A single sentence will suffice for modern man: he fornicated and read the papers."
--Albert Camus (as John-Baptiste Clamence), The Fall.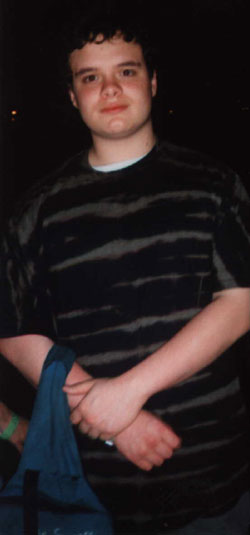 David Foster Wallace recently lamented the lack of ethics presented by modern authors. He said that most modern fictionalists believe themselves courageous, in that they are careful to avoid promoting an ethical point of view. But he holds that the true authors of courage were people like Tolstoy and Dostoyevsky, in that they were determined to show the world that ethical living was not only possible, but necessary. Wallace called for a new generation of ethical writers, a generation that would seek to help the world, rather than simply describe it.
Wallace never described himself as such an ethical writer (which is fortunate, since his latest attempt at literature was not much more than 1100 pages of analyses of the chemical makeup of illegal drugs). Presumably, he was saving this description for Derick Varn.
Derick Varn lives between a couple of imagery lines that divide Florida from North Carolina while also separating Alabama from the sea. His nomadic lifestyle finds him all over the South East since he has finished his first round of studying dead writers. He divides his time between philosophy, prose, job searching, painting, loving his girlfriend, rearing a cat, and poetry. He was written for Dark Angel, Peacock's Feet, Spiral Dance, and Wouldn't be Prudent. He is currently the managing editor for Milkwood Review. He was also editor-an-chief of the Peacock's Feet journal of Creative Arts and a staff reviewer at the now defunct Crass Menagerie music e-zine. His more rebellious literary pursuits have included co-editting the zines K.O.T.S.U., Y', and Chaos Theory. He is one of the featured literary artists in In Our Own Words: A Generation Defining Itself, Volume 3.
Derick sincerely believes that everyone needs to dance around their house naked at least once a week; in addition to that, being declared an ethicist has made him a general misanthrope. Most good ethicists are. He loves tomatoes and thinks that loving such fruit is profound. He does not like to speak in third-person because he understands that it is a sign of true insanity, but so is literature. He has vowed no longer to be witty in biographies that are included in literary journals of any medium. His current e-mail address is dyslexicbastard@yahoo.com.
Derick's works here at Unlikely Stories are: