The desert is a wreck of broken teeth, rusted cages of mummified dogs—a passel of sun-orphans. The black river, Ouroboros, swallows the faint-of-hearts (who are eternally mourning.) The sky raises her skirt to show us what we've paid for. We grind against her burning mouth, satiating our myriad hungers. When the red moon breaks orbit and crumbles, stars twist in orgiastic fires.
See how their brilliance illuminates the pale art of my veins?
---

i. Sunset
is the fringe of the world.
(Nothing exists beyond it.)
ii. Lions sprawl in cusps of clouds. The sky
iii. is edged in bird-smoke.
iv. When the world
is doused
in blue stormlight,
wild mares break
from their herds.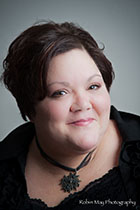 Clare L. Martin is a poet-mother-wife; a graduate of the University of Louisiana at Lafayette and lifelong Louisiana resident. Clare's poetry has appeared in Avatar Review, Poets and Artists, Blue Fifth Review, and A Clean, Well-Lighted Place, among others. She has been nominated for Dzanc Books' Best of the Web (2011) for Best New Poets and Sundress Publication's Best of the Net. Her work was selected for the 2011 Press 53 Spotlight anthology which features a select group of emerging poets and writers.