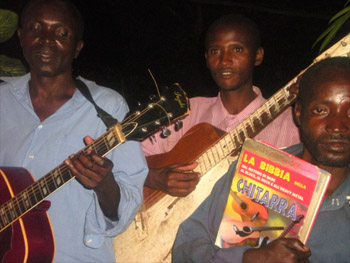 It's hard, even if you only listen to Top 40 radio, to have not heard music by someone who has experienced hardship. And this, to be specific, isn't Connor Oberst hardship, but truly desperate situations. The music of The Good Ones is colored by such experiences. The band is comprised of a trio genocide survivors from Rwanda. Their debut album, Kygali Y' Izahabu, was recorded on a friend's back porch on a summer evening in the Rwandan capital of Kigali.
There are two good reasons to put this album on repeat: 1. You might classify this in your head in that moderately offensive umbrella category of "world music," but you'd be better to call this punk rock. It's acoustic, and there isn't any screaming, but the ethos is right. It's a DIY-sounding record with choppy guitars leaning into staccato structures. 2. I'm going to go ahead and assume you don't speak Kinyarwanda, so you, like me, won't understand the lyrics. But using what is available to us who don't speak Kinyarwanda it's not a dour album. It's not full of sadness. Contrary to what you might expect given the brief overview of their lives the album is full of hopeful tones, upbeat vocals, and songs that plod forward consistently, never looking back at where they've been. And the familiar folk song structures make it possible to find yourself inside of every song on Kigali Y' Izahabu. —DLN
The Good Ones are a trio of Rwandan genocide survivors who play joyous, acoustic love songs written in the ancient local, Kinyarwanda street dialect of their nation's capital, Kigali. Adrien Kazigira, Stany Hitimana and Jeanvier Havugimana recorded the songs collected on Kigali Y' Izahabu over the course of one summer evening on the back porch of a friend's home.
Kigali Y' Izahabu is essentially an intimate field recording that even captures the howling and barking of dogs in the background, and it was recorded by two-time Grammy-nominated producer Ian Brennan, who has worked with artists such as Ramblin' Jack Elliott, Flea, TV on the Radio's Kyp Malone, Richard Thompson and many others.
Unlikely is proud to present two songs, available for download, from The Good Ones:
Sara: 12.6 megs
Amagorwa y' Abagabo: 10.0 megs