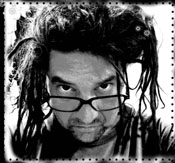 Simon Coates is an English artist originally from London and now relocated to Dubai. The images and objects he creates balance the freedom of action and/or abstract expressionism with an academic approach to both his work's themes and their execution.
A fascination with viscera and primal manifestation run throughout the work, imbuing them with added dimensions of disquiet and disconcertion. In terms of reference points, there are those that have noted Francis Bacon, Velasquez and Goya influences in Coates' paintings, although real references include the Viennese Actionist Hermann Nitsch, cartoonist Gerald Scarfe and painter Robert Lenkiewicz. Check out his web site at SimonCoates.com.
Comments (closed)
Alex Nodopaka


2011-05-20 12:25:09



Dear Simon,

I like that catty one... it's got something meow about it. I think you should make a theme/series out of it.

In re artistic influences, if it weren't for God's on me I wouldn't ask His help but I'd ask Him to play Russian Roulette with a fully loaded Nagan/revolver... and let Him aim at Himself first.

When you get to climb the Dubai skyscraper scratch God's ass. Well, that's my visceral response... lol
---
Alex Nodopaka


2011-07-02 08:26:23



The last 2 posts by cdinldo & cqqbddid are very important for the future of ARS.

They show that even ET nincompoops understands art. Art is a universal language... xxx_ccn&+&&=$#_+*** lol
---
JPenton


2011-07-03 12:20:03



Alex just loves the spambots more than he loves me...
---
Alex Nodopaka


2011-07-03 13:38:13



Djonathan, lovving u dozent kompair to ecstazzing 4 u.... Happy Birthday & Independence!!!