The IV runs into a woman's chest, and, over time,
the deep fat on her face comes unstuck,
exposing mandible and maxilla, their harsh structure
sharpened by her metal mirror. She lies down
to watch the tube and, through her window
the wiry leaves, her sisters, glittered by rain, slide by
and become worms on the Arkansas sidewalk.

When she collates her life, she has known all along,
or perhaps only recently decided, as she drew
the smoke in, how worthwhile it was, the luxury of coughing.
There is pain, she tells herself. Then, there is pain
and sloughing. It is nothing to the human day,
the heat, nothing to a woman's curls, undone,
nothing to its ordinary needs its chemical demands.
---

Cutting is what happens
when you forget that liaison
because it is the mind's
job to save your life by lopping,
cauterizing. The truth that
is pruned from your story, is lost
like a chopped thumb, left
to grope for its own warm pocket,
where the facts were in your Ironclad gloves,
that curtailed hand.
---

I can only say I came the back way
in the orange car.
It was cold where I came from.

When I arrived, the fruit trees
were bearing as if I'd never
been away to that place between

anxiety and the golden gate:
in the car-pool lane,
at the wooden door, knocking.

I came to say hello, dear enemy.
Now I'm back,
let's name each other for good luck.

Start with the children. Take
nothing for granted.
When we get there, we will know.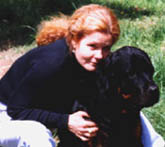 Wendy Taylor Carlisle lives on the edge of Texas with one foot in Arkansas. She is the author of two books, Reading Berryman to the Dog (2000) and Discount Fireworks (2008). She has two published chapbooks: After Happily Ever After (2River Chapbook Series) and The Storage of Angels (Slow Water Press). Her work is included in several anthologies: The Poets Grimm, (2003), Is This Forever, Or What?: Poems and Paintings from Texas, ed. Naomi Shihab Nye, (2004) and Letters to the World, eds. Moira Richards, Rosemary Starace, and Lesley Wheeler, (2007) and others. Her poems have appeared in 2River View, Salt River Review, Cider Press Review, Aquila, Bent Pin Quarterly and elsewhere. Further notes about her poems on line and in print appear on her website WendyTaylorCarlisle.com.
Comments (closed)
Eve Rifkah


2011-01-17 07:40:03



Wendy --- good work lady!

I feel a slipping between here and someplace else - now and...

ER
---
Liesl


2011-01-18 11:53:27



Strong images, that lopped off thumb will stay with me!