"Lucid Dream" is an excerpt from Epigonesia, Tom Bradley's recent collaboration with Kane X. Faucher, published by BlazeVOX. Tom reads it in the above video with visual art provided by David Aronson and Nick Patterson. Or if you don't dig the whole video thing, just give it a read:

In order to make the time we spend sleeping more profitable,
we must first recognize that we are dreaming.
—Padma Shugchang, Commentary on Karma Lingpa's Zhi-Khro
I perceived a mermaid in mid-splash among the waters...
quite muddy, very disgusting... a bubbling mire...
I was embarrassed for her... I pretended not to see her...
I began to move away.
—Louis-Ferdinand Celine, School of Cadavers
(anonymous translator)
When secret psychodramas of the night
initiate us in their mysteries,
a blindfold's tourniquetted and cinched tight
to swaddle up our eyes like infant twins
until they're ready to contain a glimpse
of chaos that surpasses all restraint.

The Lucid Dream will prematurely tease
that diaper from your exoteric face.

Tibetans taught this to their fledgling dead
before enduring death-by-Mao instead.
But dream yogins are just as doctrinaire
as Ratzinger in his sedilla chair.
And lately, when those Buddhist bardos gleam,
they're reinterpreted as something screened.

Halfwitted dreams with one shut eye are dreamt,
half-assed hallucinations semi-slept.
When waking thoughts are not exactly bright,
what makes us think they might illumine sleep?

Beneath those liquid crystal molecules
a glimpse of liquidated personhood's
horrific light is yet available.
Pure nothingness still seethes behind those screens
in pre- and post-existent harmonies.
Dominions, Powers and Principalities
will show us their annihilating truths
unless they're mashed with asininity.

The Lucid Dream is self-endorsing, trite.
Do we presume to claim ourselves the right
to spread our own ephemerality
like acne sebum, oiling troubled waves
that otherwise dream monsters up from depths?

The perishable citizen, the dreck
that's taken out and dumped when trashed by death,
assuming the high autocratic post
of Overseer General for Dreams,
exerts fastidiousness upon the Realm
where rot's unripe, bizarrerie the norm.

The consciousness, the primate's attitude,
entangled in its raveling rag of skin,
a function of the gonads' shamelessness,
projects its flesh dependency on thoughts
that under sleep parthenogenerate.

The personality, quotidian,
assumes it owes selfhood to parentage
and, therefore, on the masses of the night
obtrudes overt erotic imagery,
which super-egoistic scruples strip
of pricks and cunts and raw humanity.

To pass unindividuated time
connective tissue's caused to interlink.
Together two mere wads of stuff butt heads
and glue collaborative tongues to mutual tits
in furtive concert, toward no nobler end
than to bedungeon in organic cells
the sundry sprites who grace the ambient air.

It's doubtful that an exiled godly being
on temporary basis matter-mired
would call for fucking as prerequisite
instead of something far more pertinent
to spirits' unadulterated state:
hermetic isolation, strange, sublime.

Halfhearted plays for eyes with half-shut lids
are mounted without benefit of Id.
We're fornicating to a metronome,
restricting holocausts to hookah tubes,
hysteria to sighs of lassitude.
While gutting babies with a laser tool,
we cauterize and disinfect the hurts
before we've even had the time to drool.
Why would we want to will away the chance?

Because his dreams are emceed by himself,
the Lucid Dreamer looks upon the world
to presuppose a slightly larger Self
pulled from his ass: the most perfunctory
and shallow of all semi-gelled conceits.
The Popish Heavenly Father-cum-Prot God
is kidnaped from his Jewish tribal tent
and styled the Ultimate Reality,
himself the most egregious specimen
of Lucid Dreamer semi-dreamt by men.

Just as the Lucid Dreamer here below
puts on a prissy, namby-pamby show,
a celibate yet generative Lord
resorts to Mary's womb instead of force
in softcore porno-mythopoesy.
He violates his own presumptive laws
as priests do to their juicy altar boys.

This Demiurgic errand boy, this mope,
gets gussied up as pretty as a pope.
To take this bungling spastic fucker-up
of our particular niggling solar clump,
and puff him into That Unthinkable,
unreachable by either praise or blame
entails the sickest blasphemy of all.

The Ultimate Reality would scorn
to implicate its sacrosanctity
in perpetration of the cosmic botch
we childishly refer to as "our world."
It's sacrilege, in exclusivity
performable by Lucid Dreaming twats,
the crassest, the most ultra-obvious
of all counterintuitivities.

The stunted sense of immaterial things
that hampers him who never deeply sleeps,
whose Lorelei distracts him from dream work,
retards his rationality as well.
So, ears unstopped, he entertains beliefs
epitomizing all vulgarities.

To dream lucidity is to commit,
in argument as dumb as circular,
theodicies of cosmic tastelessness.
Vicarious atonement is required
when foolishness summarily denies
rebirth and karma's double principle
that manifestly runs the universe.
Eternal bliss or torment just as long
supplant probation, which justice demands.
That's Lucid Dreaming's tenseful time-yoked error.
Such asininity necessitates
a spiritual and moral travesty:
the filthy motto puked in Pseudo-Paul's
Epistle to the Hebrews (clearly forged):
"Die only once, and afterwards be judged."
For this we have the Lucid Dream to curse.

As if it's not uncouth enough to try
to make Jehovah chief executive,
the Lucid Dreamer essays to dumb down
our Gnomes, our Undines, Salamanders, Sylphs,
our Elementals and their mighty ilk.
The cherub's terror is masked in baby pudge,
the Syrian Monstress forcibly shanghaied
to grace this world of Disneyfied pastel
with attributes originally belched from Hell.
Where fins and scales of wadded mud prevailed,
once wedged all round with hexed cuneiform
that hissed profundities as old as towns,
we get a junior missy's turquoise gown.

Would Atargatis pose for lucid eyes,
or would a single brief self-conscious glance
cause more than cock to swell and barf its brains?
Did she employ that fish tail as a tease,
a tickling adjunct to cartoonish tits,
or as cetacean scourge to smash to bits
the shivered shrimp boats of the human wits?

Her followers castrate themselves with shards.
Semiramis, her daughter, dorked a horse.
Somehow I doubt she'd be a slickened thing,
in face as featureless as mindless gets,
not even ill-considered, complacent,
pubeless as an Arab's promised Houri,
not bald, but depilated, with a scalp
equipped with polyvinylchloride coif
and nipples alien to dairy toil.
Gravity's repealed within their ken.
Ostensible pudenda, barbie-dolled
are glossed beneath agenitalic thighs
perpetually pinched in pudency,
tempered to a Virgin Mary blue,
the surface texture purged of macula.

A non-mammalian lower torso bleeds
when stroked by fillet knife, but not monthly.
Nigredo's black unshaped lubricity
gets socialized, elucidated, bleached
by exegesis, epidermis-deep.
Erased is vene varicose's bruise,
unpuckered the striae distensae.

I want my Megalo-Mestiza Ma,
although she was more difficult to draw...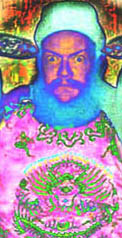 Tom Bradley's latest books are Vital Fluid (Crossing Chaos), Hemorrhaging Slave of an Obese Eunuch (Dog Horn Publishing), Lemur (Raw Dog Screaming Press), Bomb Baby (Enigmatic Ink), Even the Dog Won't Touch Me (Ahadada Press), My Hands Were Clean (Unlikely Books), Calliope's Boy (Black Rainbows Press), and Acting Alone: a novel of nuns, neo-Nazis and NORAD (Drill Press). His nonfiction titles, Fission Among the Fanatics (Spuyten Duyvil) and Put It Down in a Book (Drill Press), were named 3:AM Magazine's Non-Fiction Books of their respective years. Family Romance, a novel illustrated by Nick Patterson, is forthcoming in 2012 from Jaded Ibis Press. Further curiosity can be indulged at TomBradley.org.
Comments (closed)
Barry Katz


2011-01-14 18:15:24



This is the most magisterial display of blank verse since Milton signed on as Cromwell's Secretary for Foreign Tongues.