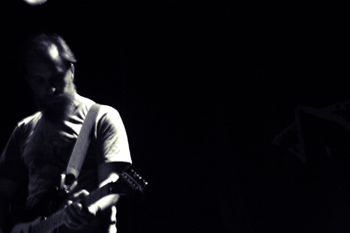 Who knows how an idea begins to germinate. We like to speculate though. We listen to creative acts and speculate about what circumstances may have accumulated to create this specific work. Listening to Aidan Baker can be a trying exercise. At its very basest Baker's music is cerebral, glacial, and intricately minimal. I listen to it and I hear the nuance of someone classically trained in music—Baker was trained in flute—but also someone free of what can often become the shackles of structure, free to experiment with curiosity and with a lack of pretense. Maybe, if I am to construct my own story, I can draw a line between that classical training and that he is also a self-taught guitarist and drummer and point to where this collision of new music, abstract folkish tendencies, and guitar-centric ambience derives from.
It's all fallacy and it's all true. That's part of the beauty of Baker's music. His music invites speculation and introspection. A lot of music can do this, but Baker seems to almost be prodding us towards living in the moment within his music. Asking us to opt towards not find the bigger picture. This is in no small part aided by the enormity of his work. He's intensely prolific. He's released over 100 albums. Many of them his own, as Aidan Baker, many under the moniker of his doom group Nadja. But he is also frequently collaborating with other artists, such as his fantastic Tim Hecker collaboration, Fantasme Parastasie. On top of that he's also a poet releasing his fifth book this year. With such a huge output it can't be expected that one could fully wrap their heads around everything he's done, everything he is trying to do.
His work is varied—his most recent album, Only Stories, may surprise fans of his more ambient work with its abundance of vocals and straightforward sounding guitars—yet there is a definite linearity to be found within the trajectory of his albums. This new, almost Nick Drake-ian feeling, converges with the ambience and creates something at once contrite and sinister. It's freeing, and that's the beauty of Baker's recordings. All they are asking you to do is listen. —DLN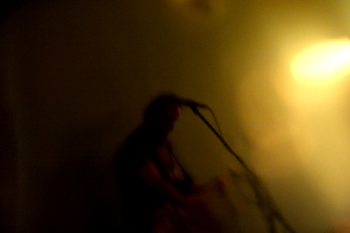 Aidan Baker is a Canadian musician and writer alternately based in Toronto, Canada and Berlin, Germany. Classically trained in flute, he is self-taught on guitar, drums, and various other instruments. As a solo artist, Baker explores the deconstructive sonic possibilities of the electric guitar as a primary sound source, creating music that ranges from and incorporates elements of experimental, post-rock, and contemporary classical music. In addition to his solo work, Baker also performs with the ambient-doom project Nadja and various other ensemble projects.
A highly prolific artist, over the course of the last decade Baker has released over 100 albums in various formats on independent labels from around the world. He is also the author of four books of poetry and has published poetry, short fiction, and criticism in literary and scholarly journals.
Baker has toured and performed extensively around the world, sharing the stage with such as artists as Tim Hecker, James Plotkin, Khanate, Grouper, Earth, Francisco Lopez, Isis, Om, The Grails, KTL, Z'ev, and many others.
Unlikely is proud to present eighteen minutes of music, available on-site, from Adian Baker:

The songs of Adian Baker are not available for download, but instead can be heard right here on the web site. If you don't see a jukebox above, try downloading Flash player.