Presenting a West Texan to Watch For: David Williamson, whose poetry, spoken word, and hip-hop has entertained the region for several years. He's now settling into a folk-rock groove, and his strong lyrics and gentle melody is ready for your attention.
David says: "I hope to write songs which inspire people to contemplate all manner of themes. I mainly enjoy making music, so I suppose my motivation is a consise tautology: I make music to make music."
The Sun (2.1 megs)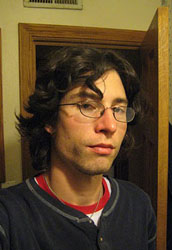 When he lived in Big Spring, Texas David Williamson used to play a very informal version of Dungeons & Dragons with friends. Often, he would DM for the group, and one day, he wrote a poem about one of the characters named Acyllian, who was the player-character of Eric Gates.
By the time he moved to El Paso, he had developed an avid appreciation for manstream hip-hop, as well as for writing poetry. In El Paso, he attended open mics hosted by the Meta4 Organization for Poetic Expression, and got a taste of underground cluture. It was in El Paso, that David's love for poetry expanded into an obsession with songwriting. Largely autobiographical, not to mention graphic, he gives himself to his art completely and unabashedly.
David is currently residing in Farmington, NM, where he is persuing an A.A.S. in renewable energy.