The music of The Clockwork Dolls on their new album, Dramatis Personae, could most quickly be described as mood music. Allison Curval, Helene De Fer and Cedric Mayne probably already know that. The only trick is figuring out what kind of mood is best appropriate when you begin moving through the album. That may sound like a slight against this brilliant, eccentric group and the work they've been putting out, but it really isn't. It just isn't going to be the kind of thing you generally find when looking for new music. There really isn't anything like this out there right now. You may not know how to first react when a song as strange and wonderful as "Maiden Voyage" starts up. The song is a six-minute tour of musical creativity, a weird mix of electronica, classical music and a few other sounds from varying periods thrown in for good measure. Put that in with lyrics reading like some great, ancient ballad and dream-like, whispery vocals, and the result is one of the more unique listening experiences available.
Other artists are certainly trying for their own niches with similar approaches to The Clockwork Dolls. Still, no other group has come up with anything quite like this. The Clockwork Dolls have any (remotely) similar acts beat on ambition alone. This ambition really shines through on "Blades in Autumn." The track proves to be even more distinctive in its words and sounds than the last. It would make for an awfully enjoyable song on some movie soundtrack about faraway worlds and an ominous mist that hangs over every blind corner on the street.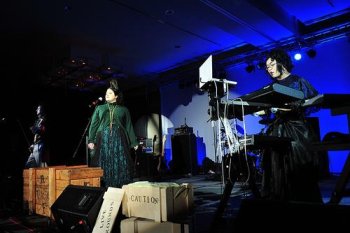 That sense of cinematic style is a consistent feeling throughout the album. The beautiful, wild storytelling poetics in the lyrics could probably make for a film all on their own. It's likely that this was intentional on the part of the band. Something grandiose can be found in every moment of the album's chaotic harmonies. Of course, that's only one way to approach these sorrowful and adventurous songs. You don't have to consider the movie score idea, but such ideas can certainly lend themselves to the music's obvious visual punch.
Whatever you go with there's no doubt you'll find the Clockwork Dolls interesting as hell. They should be applauded for all of the complex imagery they've managed to create, while sounding unlike anything you've heard in quite some time, if ever. —GR
The Clockwork Dolls began in 2007 with a simple concept: to create music that serves not only as a source for recreation but as a means of narration, a storyteller much like the days of old. The trio's strength rests in their unique combination of skills. Their music combines Allison Curval's knack for the fusing of traditional classical music with the epic sounds of contemporary musical scores and modern electronica with Helene De Fer's passion for poetic lyrics and Cedric Mayne's immersive musical style on the violin. The music of The Clockwork Dolls involves an elaborate world that is simultaneously familiar and strange. It is one that is filled with flights of fancy, airships, and the technology of both past and future. The Clockwork Dolls functions not only as a band but as a group of writers and actors telling a story of adventure, bravery, tragedy, and drama all mixed in with the occasional bawdy tale.
The Clockwork Dolls Say: As a band it is our goal is to fulfill the role of storytellers of old in which music was used as a method of conveying a story as well as a source of recreation. Utilizing our mutual backgrounds as actors, writers, and musicians we've created a complex universe built off of science fiction, fantasy, and steam punk technology with an epic storyline consisting of comedy, tragedy, as well as high adventure. Our goal is to bring our listeners into our world and out of the mundane monotony of everyday existence. To us our music should serve a conduit to fuel the imagination rather than stifle the creative spirit.
We are proud to present three songs by The Clockwork Dolls:
Maiden Voyage: 7.1 megs
Blades in Autumn: 8.3 megs
The Ballad of Black Jack Jezebel: 5.3 megs
The Clockwork Dolls have given us these three songs available for free download and distribution, provided that no changes to the songs or .mp3 metadata are made.

Comments (closed)
Newamba Flamingo


2010-01-19 10:45:47



Really digging on this group. Thanks for featuring them.