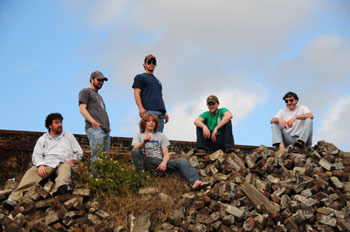 The Savannah, Georgia-based group Turtle Folk could technically qualify as southern rock. It's true that you can hear bits and pieces of the genre in the lengthy, inventive-yet-organized "Sidewinder." You can also hear that same history and culture in "Let It Go." Both tracks establish a very distinct idea of what they're doing but what they can do if given the opportunity. Their energy hangs somewhere between a laid-back jam band playing that bar down the street on a late Saturday night and six guys who clearly have the necessary talent to get out of that bar and into the rest of the world. They'll get there. It's just a matter of time.
The somewhat limited musical landscape of southern rock is very much alive in these songs and others they've released. Turtle Rock knows this territory well and infuses its influence into the sharp twangs and swinging hooks found in many of their songs. Lead vocals and guitarist Michael McCormick has an accent behind his throaty voice that is likely right at home in states like Georgia or South Carolina. All of this is apparent, but there's a lot of other stuff going on with Turtle Folk when you get past the obvious. Their musical interests reach much further than just one particular style. "Sidewinder" is quite possibly the strongest tune in their arsenal to provide evidence of their varied-yet-focused ideas. The song is a calculated mix of that southern rock you would expect to hear, but there are also traces of blues closely followed by the kind of clean, sharp rock sound that usually does well on commercial radio. Some moments of the song even contain flickers of what could be best described as low-key metal. A lesser group would try to put all of this together and wind up sounding a little too busy. Turtle Folk never slips up. These are the kind of guys who have been working at their craft for more weekends than some artists pack into every day of their lives for years at a time. Not one second of their free time has been wasted, and not one moment in their work is used for anything less than their best effort as a group. Keeping this in mind makes these two lengthy tracks even more impressive.
"Saint Charles" is another song that could certainly help them along. It's one of their tightest, most striking examples of their current sound, providing a solid breakdown of their talent and even future promise in less than two and a half minutes. "Saint Charles" is clever enough to catch you by surprise as you head out of town on Friday afternoon for wherever you're going to be when the gas runs out. It shows up, makes for a considerable presence and then leaves with all the best parts still moving around in your head. It's the kind of song you wouldn't mind hearing a few more times. That's not an unintentional. The song is more careful planning from McCormick and the other five members of the band. Songs like this one should stand to serve them well as they continue to move forward. —GR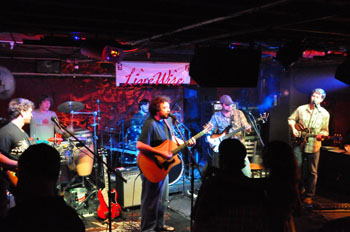 Turtle Folk says: "Turtle Folk is part southern rock, part organic trance, and part psychedelic jam band. By taking cues from varying genres of music and expressing them in their own unique way Turtle Folk creates a musical environment that is ever-changing. Hailing from Savannah, Georgia they incorporate ripping guitar solos, rock solid percussion tempo, thundering rhythm, and bold vocals that when blended together, creates a soulful and improvisational 'get down and boogie' sound that is all their own. It's downright Coastal Georgia Rock! We were honored to be voted Best Local Rock band by the 2007 Connect Savannah Readers Poll. Since then we have traveled across the Southeast from Florida to West Virginia.
"We're just trying to play/write music, entertain people, and ourselves. Any success we have during this period will make this easier and more convenient. Obviously we have the goals that most bands have at our level. But, most of all, we enjoy creating music with each other. We plan on making a new album next year with a tour to back it up. We hope we can branch out farther and play more music as we progress."
Unlikely is proud to present twenty-six minutes of music, available on-site, from Turtle Folk:

The songs of Turtle Folk are not available for download, but instead can be heard right here on the web site. If you don't see a jukebox above, try downloading Flash player.