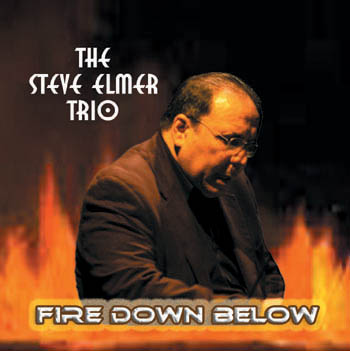 The music of jazz veteran Steve Elmer brings to mind the best of Yoko Kano & the Seatbelts. Elmer's work recalls the brilliance of The Seatbelts' soulful, classic-minded jazz/blues score that was composed for the iconic anime series Cowboy Bebop. It's been ten years since that group finished with the show and disbanded. But even now, their work proves that the Japanese have long since picked up the ball for jazz and are continuing to run in some pretty interesting directions with it.
This fact isn't lost on pianist/composer Steve Elmer. It's not much of a surprise that two of the three members that comprise The Steve Elmer Trio are from Japan's consistently excellent jazz scene. Even with the genre changing in the hands of Japan's DJs and their club scene, Elmer was able to find two remarkable talents, Hide Tanaka on bass and Shingo Okudaira on drums who match his own desire to continue moving forward with a more traditional sound. Not that any of these three terrific tracks from their second album, Fire Down Below, are derivative or are lacking in creative spark. "Constant Lee" is a particularly sharp, inspired piece of energy. It quickly and clearly represents everything a good jazz number is capable of. The sound and flow bounces and moves with insight and enthusiasm, coming off as brand-new and traditional at the same time. There's a great sense of exploration in the song. The tone and force could change at any moment, but it would never make Elmer and his cohorts any less in command. Each member is distinctive and impressive in their own way, but no one musician ever runs roughshod over the others. Everyone comes together and never fails to move in perfect sync to create the atmosphere of the song.
Most importantly—and the same can be said for their equally-excellent "Tanaka's Hideout" and "Aaronology"—it evokes all the right imagery. No matter who you are or where you are, this is the soundtrack for a kind of cool that's never really gone out of style. It's hard to listen to these, especially "Tanaka's Hideout," and not imagine that you've just walked into the hottest club in town wearing your best suit and carrying your best internal monologue. Even if you don't smoke, you light up a cigarette as you move towards the bar and order a drink from a bartender who bears an uncanny resemblance to Humphrey Bogart. After that, you simply wait for the action and adventure to come to you. The music of Steve Elmer and The Steve Elmer Trio does a wonderful, laid-back job of making you believe that the world will come to you in due course. For now, it's best to just sit back and relax. As a soundtrack to doing just that, you couldn't ask for anything better. —GR
Pianist/Composer Steve Elmer is an expressive and creative musician of growing acclaim. Once called "the most anonymous piano player in New York" by a respected jazz pianist impressed by Elmer's playing, he is now receiving praise from jazz publications and musicians throughout the nation. Jazz Times says "He plays with the ferocity of a man with no more time to waste," and All About Jazz Los Angeles says "Pianist Elmer has imbibed from Bud Powell's well, and has come up with a bucket overflowing with some hard hitting and vibrant bop. " Elmer describes his musical approach as "Classic Jazz: play the melody, improvise, tell a story, and make it swing."
Steve Elmer began his musical training as a drummer in a Brooklyn junior high school when he was thirteen years old. He earned a BS in Music Education from Hofstra University in 1967 and an MA in Music Composition from Queens College in 1969. At age 25, he switched from the drums to the piano, studying with jazz pianist Lennie Tristano. After six years of intensive training, Steve moved away from Tristano's influence and at age 40, began classical piano lessons with Arminda Canteros and Jon Verbalis, broadening his scope and redefining his love of music.
Elmer's musical direction changed again in 1991 when he met a young drummer named Myles Weinstein and discovered they were both on the same musical wavelength. They formed a group called The Jazz Mentality with Chris Potter on saxophones and Ralph Hamperian on bass. The group recorded two CDs, Maxwell's Torment and Show Business Is My Life, featuring many of Steve's original compositions.
In 2006, Steve recorded I Used To Be Anonymous, a CD featuring Hide Tanaka on bass and Shingo Okudaira on drums playing nine original Elmer compositions. The trio went on a 2,500-mile tour of Japan in 2007 and recorded Fire Down Below, their second CD, in 2008, featuring ten of Steve's original compositions. All About Jazz New York says "It is quite evident that Elmer has stayed true to his muse, producing a fine example of piano trio jazz that is an exuberant and facile demonstration of his skills as a jazzman as well as those of bassist Hide Tanaka and drummer Shingo Okudaira."
Steve Elmer says: Many of my compositions are dedicated to people who have inspired me or who have had a direct impact on my life. I also try to write tunes that have clear melodies and rhythmic variety so listeners have a frame of reference for the improvisations that follow. This is the traditional way jazz musicians have been making music since the early 1920s."
Unlikely is proud to present three songs totalling eighteen minutes of music, available on-site, from Fire Down Below. Once you're done here, be sure to check out Steve's YouTube channel and SteveElmerJazz.com.

Music from Fire Down Below is not available for download, but instead can be heard right here on the web site. If you don't see a jukebox above, try downloading Flash player.
Comments (closed)
Tim


2009-05-01 02:40:42



Great article. I feel like I have a much better idea of what is going on down there now.